Everything Parents Need to Know About Greg Abbott's Order to Investigate Trans Kids
It's not binding — but agencies are ready to enforce his guidance. Here's everything parents need to know.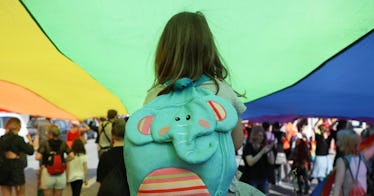 NurPhoto / Contributor / Getty Images
On Tuesday, Texas governor, Republican Greg Abbott, called for "all licensed professionals who have direct contact with children…including doctors, nurses, and teachers" to report parents of transgender children who receive gender-affirming medical treatment for child abuse.
Abbott's order came on the heels of an opinion shared via a tweet by the state's Attorney General, Ken Paxton, that gender-affirming treatments such as hormone therapy, surgery, and puberty-blockers, constitute child abuse under Texas state law.
These statements have been condemned by the American Civil Liberties Union, the Transgender Education Network of Texas, and the Trevor Project — not to mention alarming parents of transgender children. And, like other recent Texas orders, the statement has led to many legal questions: Is it binding? Even if it's not binding, will it, or can it, be enforced? When will it be enforced, and by whom? What does it mean for parents of kids, for teachers, for mandated reporters? Is it a sign of greater restrictions on transgender kids to come across the country in other Republican-led states? Here's everything you need to know.
What the Letter Says
In his statement, a letter sent to Texas Health and Human Services, the Department of Family and Protective Services, and the Texas medical board among others, Abbott asserted that "to subject Texas children to a wide variety of elective procedures for gender transitioning, including reassignment surgeries that can cause sterilization, mastectomies, removals of otherwise healthy body parts, and administration of puberty-blocking drugs or supraphysiologic doses of testosterone or estrogen" is child abuse.
He also suggested that parents of children who receive such care should be investigated for child abuse, adding that Texas law "provides criminal penalties for failure to report such child abuse."
Although neither official offered medical insight or expert-driven evidence to back their claims, trans-rights advocates have been quick to point out that gender-affirming care has been proven, time and again, to be a life-saving medical treatment for trans youth, and that gender-affirming surgery is generally not legally available to minors.
What the Letter Means, Legally
It's important to note that lawmaker opinions do not constitute laws and are not legally binding, though they can alter how certain laws are enforced.
Representatives from the Texas ACLU have been quick to point out the legal inconsistencies in the Governor's order. "Paxton's opinion is not legally binding, and it remains up to the courts to interpret Texas laws and the Constitution," said Adri Pérez, policy and advocacy strategist at the American Civil Liberties Union of Texas, in a statement.
"Moreover, DFPS cannot remove any child from their parents or guardians without a court order," they explained. "No court here in Texas or anywhere in the country has ever found that gender-affirming care can be considered child abuse. The opinion released by Paxton cites highly partisan, outdated, and inaccurate information that ignores the consensus of every major medical association and the evidence-based and peer-reviewed standards of care."
Many advocates are concerned that the Governor's proclamation will overwhelm the already beleaguered state Department of Family and Protective Services, even if it isn't enforceable.
"This opinion and letter have no legal effect and cannot change Texas law nor usurp the constitutional rights of Texas families," Brian Klosterboer, staff attorney at the ACLU of Texas, explained in a statement. "But they spread fear and misinformation and could spur false reporting of child abuse at a time when DFPS is already facing a crisis in our state's foster care system."
"The law is clear that parents, guardians, and doctors can provide transgender youth with treatment in accordance with prevailing standards of care. Any parent or guardian who loves and supports their child and is taking them to a licensed healthcare provider is not engaging in child abuse."
Critics of Abbott's and Paxton's position claim that the statements were politically motivated moves that conveniently coincide with the state's Republican primaries, which take place in one week. Both incumbents face stiff competition on a crowded ballot.
Although the state's child protection agency said it will enforce Abbott's decision, on a county level, some officials are balking.
"My office will not participate in these bad-faith political games," Harris County Attorney Christian D. Menefee said in a statement Tuesday. "As the lawyers handling these cases, we owe a duty of candor to the courts about what the law really says. We'll continue to follow the laws on the books — not General Paxton's politically motivated and legally incorrect 'opinion.'" Houston is the county seat of Harris County, the most populated county in the state.
Similarly, Austin-area officials are not keen to follow Abbott's directive. "The Republican leadership of this state is trying to turn loving and supportive parents into criminals, and this office will play no part in it," Travis County Attorney Delia Garza told The Dallas Morning News. But there are other cities and other counties across Texas. And just because it's not binding doesn't mean that mandated reporters won't report as Abbott has directed — the order, in fact, gives them the justification to do so if they agree with Abbott's opinion.
Ramifications for Families in Texas and What Happens Next
It's cold comfort, if a comfort at all, that several District Attorneys have already said they will not engage in pursuing transgender children and their parents, and that court opinions are necessary to investigate abuse or remove a child from a home. But those are just in some cities and counties. And other government agencies are ready to act on Abbott's orders.
Just because it's not legally binding now doesn't mean it will never be. As reported by The New Republic, even if most government agencies don't follow the nonbinding rule, others, like Family and Protective Services, have already said they will follow it.
In the simplest terms, the state of Texas is saying that it will help people separate transgender children from their parents, and give mandated reporters the power and justification to do so, as well.
This Texas guidance is part of a larger, national effort to limit the rights of transgender children under the guise of "protecting them," despite the fact that, as previously stated, minors generally cannot receive gender-affirming surgery and early interventions like puberty blockers help keep transgender children happy and healthy.
One expert told TNR: "The amount of false reports, bullying, and harassment directed towards trans youth, their parents and guardians, and providers of gender-affirming care could go up."
In the meantime, parents will wait in the lurch to figure out what possibly could happen next to them and the children that they love — potentially in the name of political expediency.
This article was originally published on