Texas Barred CDC Guidelines, Including Masks, in Schools
Despite the CDC's recommendation to keep the masks in schools for the time being, the governor of Texas feels differently.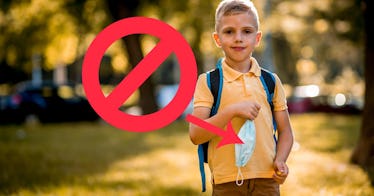 COVID-19 guidelines, put in place over the past year in the United States to limit the spread of COVID-19 and the risk of getting it, are being rolled back as more people get vaccinated.
Just last week, the Centers for Disease Control rolled back mask guidelines for fully vaccinated individuals (and forgot kids in the process), and as a result, many state governments have followed suit and pulled back ordinances that require unilateral mask-wearing in stores, in businesses, and in public.
But one major guidance, the CDC guidance on how to operate schools safely, has not yet been touched by the public health agency. That's because the vast majority of kids can't really get vaccinated yet.
Just this week, Rochelle Walensky, the CDC director, said that the CDC would keep the mask, distancing, and testing guidelines for schools in place until the end of the school year but would revisit the guidelines before the 2021-2022 school year. But some states, apparently, have no interest in following the current science of how to keep unvaccinated children safe.
Despite that — and despite the fact that across the country, there are only several weeks left of school — some governors are rolling back their school guidelines to be anti-science and more unsafe. According to Reuters, Texas Governor Greg Abbott ordered all public schools in the districts of his state to lift the mask mandates next month, contradicting the CDC's recommendations.
The Governor said that he feels with the vaccinations and other safety practices in place, the mask mandates are no longer required. "Texans, not government, should decide their best health practices, which is why masks will not be mandated by public school districts or government entities. We can continue to mitigate COVID-19 while defending Texans' liberty to choose whether or not they mask up," he said in a statement when announcing the new order.
The Governor said that any local government that mandates a mask be worn, other than in a hospital or a state-run living centers, can be subject to a fine of up to $1,000, beginning May 21, according to the news release.
The Food and Drug Administration (FDA) recently approved the Pfizer COVID-19 vaccine for kids as young as 12, but children younger than that have not yet been approved to receive the vaccine safely and effectively. And while many, many kids could get fully vaccinated before the school year starts, right now, the vast majority of students in elementary schools are unvaccinated.
Doing away with mask mandates for political points at a time when school is nearly, just nearly, out for summer, is just that: a politics play. It's not one that is guided by scientific guidelines, or public safety.
Who knows: the CDC could change their school guidelines, and in fact have publicly stated that they will likely do so, well before kids go back to school buildings in the fall. But Abbott, and others, just can't wait. And it could be harmful to kids all across Texas.
This article was originally published on