These 10 Cities Have the Most Overvalued Housing Markets in the U.S.
If you're looking to relocate, you might want to avoid Utah.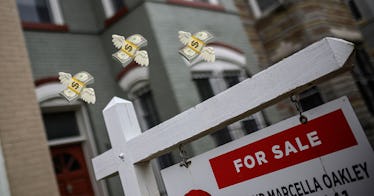 GETTY
Relocating to a new city can be a great way for a family to get more space for less money, but if you are looking to save, you may be best off avoiding Utah. At least, according to a new survey of the cities with the most overvalued housing markets in the U.S.
A new survey from Florida Atlantic University and Florida International University identified the 10 cities in the United States with the most overvalued housing markets, meaning that people buying a home there are pretty much guaranteed to be overpaying. And in a market already as hot as it is, that's gotta be a pretty penny.
Boise, Idaho took the top spot on the list, as the current housing market is a whopping 80 percent higher than where it should be valued. No other state came close to that high of a rate, with Austin following behind at 50 percent, representing a 30 percent drop.
Utah then grabbed three of the next five spots on the list, with Ogden (49.7 percent), Provo (46.16 percent), and Salt Lake City (42.41 percent) all having wildly overvalued housing markets.
Here are the top 10 most overvalued housing markets in the United States:
Boise, ID – 80.64%
Austin, TX – 50.72%
Ogden, UT – 49.70%
Provo, UT – 46.16%
Detroit, MI – 45.57%
Spokane, WA – 45.21%
Salt Lake City, UT – 42.41%
Phoenix, AZ – 42.31%
Las Vegas, NV – 41.88%
Stockton, CA – 38.50%
The list makes it clear that as working from home has become more common due to the pandemic, more and more people are trying to leave major or other cities behind and head for greener pastures like Idaho and Utah.
The only problem? When too many people do that at the same time, demand outpaces supply and suddenly, a house in Boise is overvalued by 80 percent. Of the 100 cities looked at for the study, 95 of them were deemed to have an overvalued housing market.
But the survey did discover that there were a few cities that actually have undervalued housing markets. If you've always dreamed of living in Hawaii, now may be the time, as Honolulu houses are currently five percent lower than their expected value. That doesn't mean they're cheap, however.