Teen Hospitalization Rates for COVID Climb As Mask Mandates Drop
Young teens were hospitalized for COVID at "troubling" rates in April, the CDC Director says.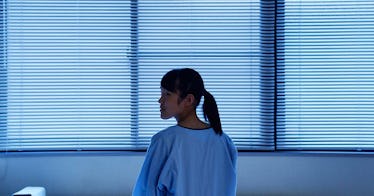 Hospitalizations for young teens with COVID-19 spiked in April, according to a new study from the Centers for Disease Control and Prevention. Meanwhile, states have continued to drop their mask mandates — a worrying move for parents with unvaccinated kids who are still vulnerable to the virus.
"I am deeply concerned by the numbers of hospitalized adolescents," CDC Director Rochelle Walensky said in a statement. "I continue to see promising signs in CDC data that we are nearing the end of this pandemic in this country; however, we all have to do our part and get vaccinated to cross the finish line."
Adolescents aged 12 to 15 have been able to get Pfizer's COVID vaccine since mid-May, which means none of the children in this age group will be fully vaccinated until late June or early July. They're still vulnerable to the disease — as are younger kids, who aren't approved to receive the COVID vaccine yet and likely won't be until September at the earliest.
The spike in teen hospitalizations is likely due to a number of factors, including more transmissible COVID variants becoming widespread and the loosening of COVID precautions, according to the CDC study. Children have largely returned to school in person, and mask and social distancing requirements have been dropped in many places.
States have been lifting mask mandates throughout the year, with 12 having lifted them by April 10, according to NBC News. After the CDC dropped its mask recommendations for vaccinated people in mid-May, more states have either done away with their mandates completely or have made exceptions for vaccinated folks. Parents are, understandably, worried that unvaccinated adults will take this as an opportunity to shed their masks and put their unvaccinated kids at risk.
Luckily, children are at low risk for severe COVID-19, even with the spike in hospitalizations. In April, the rate of hospitalization for COVID was 1.3 per 100,000 adolescents. Children aged 0 to 4 experience similar rates, and the rate for kids aged 5 to 11 is even lower.
But there is still a risk. Adolescents were hospitalized with COVID-19 at about three times the rate as they were by the flu over previous flu seasons, according to the study. Of the teens in the study, about one-third were admitted to the ICU and 5 percent were put on a ventilator. None of them died.
Most of the children who were admitted to a hospital had an underlying condition. About 36 percent had obesity, 31 percent had chronic lung disease including asthma, and 14 percent had a neurological disorder. Thirty percent of those who were hospitalized did not have a relevant underlying condition. About 31 percent were Hispanic or Latino and 36 percent were non-Hispanic Black.
"Vaccination is our way out of this pandemic," Walensky said. "I ask parents, relatives, and close friends to join me and talk with teens about the importance of these prevention strategies and to encourage them to get vaccinated." And with states relaxing COVID restrictions nationwide, the sooner kids get vaccinated, the safer they'll be.
This article was originally published on