Teen Builds A Real Rollercoaster In His Backyard In Viral TikTok
"I could not be more proud."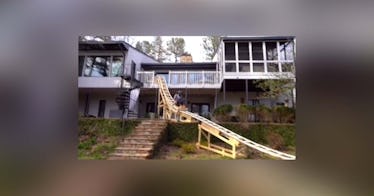 We've all had to get a little more creative to have fun this past year, thanks to the pandemic. Events and outings that used to fill our schedule have been largely unavailable since March 2020. Boredom has crept in one Georgia teenager who knew exactly what to do with his extra time. He built a rollercoaster in his backyard.
Ben Tolliday said he was feeling mighty bored over the past several months, so he did what any other person would do. He ventured to make a backyard rollercoaster. Using three weeks, PVC pipes, cinder blocks, sandbags, and wooden beams, Ben constructed a working rollercoaster. Ben handled building both the track and the car – and it actually works.
"It's on casters, and we've got three sets of four wheels. Four go on here, another four are on the side, and another four underneath," Ben explained to WSB-TV.
When it came time to actually test out the rollercoaster, Ben was nervous. Could he trust himself to build something that really works? Turns out he can.
"I was absolutely terrified," Ben said of trying the ride for the first time. "But I guess because I built it, I knew how sturdy it was. So, I was pretty confident I'd be OK, but I was screaming my head off. It was crazy."
He shared one of the first runs on his working backyard rollercoaster on TikTok, where it went viral pretty quickly. Framing the video as something the Disney characters Phineas and Ferb would be proud of, Ben shared the video of him testing out the ride for the first time.
"These boys taught me well," Ben wrote in the caption about the famous brothers who always get into interesting experiments and builds during their vacation. Even co-creator of the show, Dan Povenmire, was thrilled with Ben's build, commenting, "I could not be more proud."
Ben was trying to convince his mom to try the rollercoaster out as well. He asked her how many likes it would take on TikTok for her to throw on the helmet and go for a ride. And when he hit that mark, mom kept her word.
Katherine Tolliday said she's proud of her son for what he was able to create. But she's also looking forward to having it come down.
"I'm looking forward to getting my yard back. I've got some plants trying to grow underneath. Yes, this is not going to be a permanent fixture in my yard. I can tell you that," Katherine told the news station.
Ben's gone viral several times over on TikTok, thanks to his fun backyard rollercoaster. He's not sure what he's going to jump into trying next time he's bored, but he's gotten a real good taste for building cool things.
"That would be my dream job, to build stuff like this for people and then see their reaction when they go down it for the first time," Ben said. "Yeah, I had so much fun building it."