Ted Cruz Blames His Kids For Cancun Trip During Texas Crisis
Ted Cruz laid the blame of a poorly-timed trip to Cancun at the feet of his school-aged children.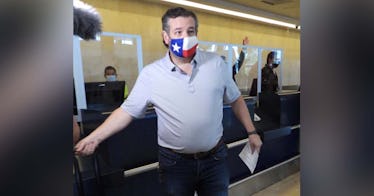 Getty
Last night, someone took a photograph of Texas Senator Ted Cruz boarding a flight to Cancun, Mexico, with his family. The photo of the Senator nearly immediately went viral overnight and became a major news item by the morning simply because of the many millions of Texans who still don't have power, heat, running water, access to food or medical services, and more. Many Texans have died in the midst of a whopping snowstorm and subsequent freeze. The lack of preparedness by the state of Texas to deal with that problem has led to a dire situation.
Meanwhile, the Senator, who could be coordinating targeted relief or investigating the systemic failure of the Texas electricity and gas infrastructure appeared to be heading on a beach vacation while his constituents froze.
So, yeah, the photo went viral. Senator Ted Cruz quickly hopped back on a flight from Cancun to Houston on Thursday, February 18th, when the press came out and he released a statement trying to explain away why, exactly, he traveled to a resort town in the midst of a pandemic and the deaths of Texans from a state of emergency/natural disaster.
The senator from Texas appeared to lay the blame for his ill-timed trip squarely at the feet of his two school-aged daughters (who are about 12 and 10 respectively).
"With school canceled for the week, our girls asked to take a trip with friends," Cruz wrote. "Wanting to be a good dad, I flew down with them last night and am flying back this afternoon. My staff and I are in constant communication with state and local leaders to get to the bottom of what happened in Texas. We want our power back, our water on, and our homes warm. My team and I will continue using all our resources to keep Texans informed and safe."
The statement is… well, not great. It sure reads like he's blaming his children for the travel plans is beyond. It looks like Cruz is hiding behind being a "good dad" and using the shield of his family to stop people from speculating on the trip itself.
Even if the statement is true, a good parent (and politician) should probably know better than to throw their children under the bus for the sake of saving their face when it comes to a PR disaster in the midst of a state crisis that will reverberate for decades.
It's not just about that, though. His daughters, to be clear, are blameless here. They are children. They should not be a part of this conversation. He brought them into it. And to travel to a resort town that has been absolutely crushed by COVID-19 under the weight of American vacationers in the midst of the pandemic at a time when people are cutting down trees in their own front yards to try to burn wet firewood to stay alive is bonkers. It's a bad example of leadership. If the statement is not true — and Cruz was simply trying to go on vacation — then his decision to bring his children into the statement to obfuscate blame is even worse.
Good parents say no to their kids sometimes. Perhaps Cruz should have considered doing that when his state fell face-first into a prolonged crisis and his services were needed the most. Either way, using the "father of daughters" excuse here would be funny if it weren't so offensive and, frankly, a little bit sad.