Safety First (Taylor's Version)
Taylor Swift Tried To Pull A Kid Onstage And It Did Not Go All Too Well
She's always thinking of her fans.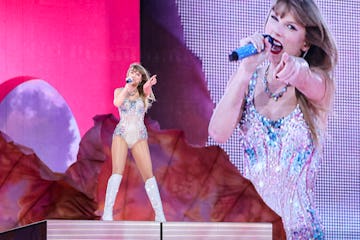 Chicago Tribune/Tribune News Service/Getty Images
Taylor Swift nearly made a young fan's dreams come true as she performed her "Eras Tour" in Chicago, Illinois. While performing "22," Swift gave a young girl in the audience her black top hat and then had a brief interaction with her — nearly pulling her on stage in the chaotic (and fun) process.
According to clips shared on social media, it looked like Swift was trying to help the young fan up on the stage before rather wisely aborting her plan mid-way and ushering her back down.
Later on, Swift actually addressed the moment to the crowd, explaining that she got carried away with the "cute" kid in the audience before realizing that it wasn't going to be all that safe to bring her up into the limelight.
"I'm just like, 'I'm going to bring her on the stage, I'm just going to hug her and bring her on the stage,'" Swift recalled. "And then I remembered we don't have a safe way to get her off the stage."
"My brain just went completely blank, and I was just like, 'You're so sweet and cute, come up on the stage,'" she continued.
"She was confused, and I was confused, so just if anyone else was confused, that was because that child was so adorable that I tried to make her a part of the show, and I had no control over it," she admitted. It's a good thing she took a beat to figure out how the kid would fare once she made it on the stage — and a great example of Swift caring about the wellbeing of her fans at her epic live shows.
It was an adorable moment that could have turned poorly, but thankfully, Swift thought things through right at the last moment. This is especially impressive since she was performing for a crowd of thousands of people simultaneously. Also, even if her young super-fan didn't get to perform or sing on stage with Taylor, she still got to have a great moment with her, one she will probably remember for the rest of her life.
If you're planning to attend a concert with your kid or a large outdoor event, there are a few safety steps you can take, including wearing noticeable, bright clothing, taking a picture of what your kids are wearing, designating a meeting spot should you get separated, and being aware of event capacity.