Taxpayers In These 6 States Are Getting An Extension — Here's Why
You might have some extra time to file your taxes.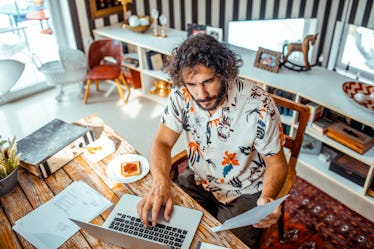 Marko Geber/DigitalVision/Getty Images
Powerful storms and severe weather took a devastating toll across the country over the last several months, leading the Internal Revenue Service (IRS) to issue a tax extension to residents in affected areas.
These Are The States (And Counties) Getting Tax Extensions
If you live in specific counties in one of the following six states — Arkansas, Mississippi, Georgia, Alabama, New York, or California — you may have a few extra months to file your taxes due to the toll of natural disasters. Here's what to know.
1. Arkansas: Most recently, strong tornadoes and high winds ripped through parts of Arkansas last week, prompting FEMA to declare several affected locales as disaster areas. The tax filing deadline for individuals and businesses in Cross, Lonoke, and Pulaski counties now have until July 31 to file.
2. Mississippi: The IRS also issued extensions for residents of Carroll, Humphreys, Monroe, Montgomery, Panola, and Sharkey counties in Mississippi due to intense storms and tornadoes on March 24 and 25. Residents of those counties also have until July 31 to file.
3. Georgia: In January, some Georgia residents received an extension to file their taxes of just one month, but after additional severe weather in March, that extension was pushed until October 16. Affected areas include Butts, Henry, Jasper, Meriwether, Newton, Spalding, and Troup counties in Georgia.
4. Alabama: Two counties in Alabama are subject to the same extension that Georgian residents are receiving. Alabama residents in Autauga and Dallas Counties don't have to file their taxes until October 16, as well.
5. New York: Due to a severe winter storm in December, residents of Erie, Genesee, Niagara, St. Lawrence, and Suffolk counties in New York have until May 15 to file both individual and business taxes.
6. California: Californians affected by mudslides, landslides, and flooding caused by severe winter storms also received an extension. Residents or business owners in Alpine, Amador, Butte, Calaveras, Del Norte, El Dorado, Fresno, Glenn, Humboldt, Imperial, Inyo, Kern, Kings, Lake, Los Angeles, Madera, Mariposa, Mendocino, Merced, Mono, Monterey, Napa, Nevada, Orange, Placer, Plumas, Sacramento, San Benito, San Bernardino, San Francisco, San Joaquin, San Mateo, San Luis Obispo, Santa Barbara, Santa Clara, Santa Cruz, Sierra, Sonoma, Stanislaus, Trinity, Tulare, Tuolumne, and Yuba counties now have until October 16 to file.
Americans who don't live in regions affected by recent severe weather have until April 18 to file, but anyone can file for an extension by completing IRS Form 4868.