You Can Get $30 Worth of Free Baby Stuff From Target, But It's Not Cheap
The promo is back but read all the details first.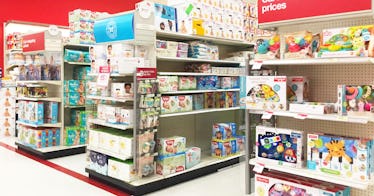 Everyone knows that Target is one of the best places to shop and for parents with newborns, the store carries a wide range of product and have some great sales. The company does car seat trade-ins, offers some free gifts for new parents, and they have this rolling promotion that parents often look forward to. It's not cheap but can be a good deal if you're smart about it. Target's $30 gift card with $100 of baby purchases promo is back and here are all the details.
The Target promotion is running now through January 18th, and according to their promotion details, there are over 660 different baby products that are eligible to use toward the promotion.
By purchasing select baby food, snacks, wipes, diapers, and other toiletries and spending at least $100 through Target's in-store Order Pickup, Drive Up, or Same Day Delivery Shopped by Shipt services, you are eligible for a $30 gift card to be used for anything in the store, not just baby stuff. You can do this more than once, as long as you do the same-day purchasing and spend $100 or more each time.
No, it's not the most affordable promotion since you must purchase the same day and spend $100 on baby things, but if you need to stock up on diapers and those expensive baby food pouches, it's a good deal. We all know how expensive babies can be and really, any little amount helps, right?
For all the details on the Target $30 gift card promotion, check out their website.
This article was originally published on