Tammy Duckworth Becomes First Senator to Give Birth While in Office
The Illinois Senator will not technically be able to take maternity leave, as that would disallow her from participating in floor votes.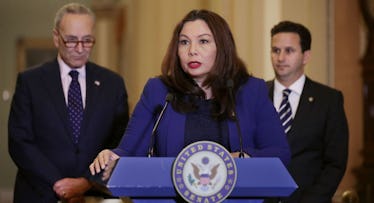 Getty Images
Yesterday, Tammy Duckworth became the first Senator in American history to give birth while in office after delivering her daughter, Maile Pearl Bowlsbey. Duckworth released an official statement announcing the birth, saying that she and her husband, Bryan Bowlsbey, "couldn't be happier to welcome little Maile Pearl as the newest addition to our family."
"We're also so grateful for the love and support of our friends and family, as well as our wonderful medical teams for everything they've done to help us in our decades-long journey to complete our family," Duckworth said in a statement.
In the birth announcement, Duckworth also took the time to show her continued support for families and parents. Since giving birth to her first child in 2014, Duckworth has become one of the biggest advocates for parents in the Congress. According to the Chicago Sun-Times, Duckworth has been "a sponsor or co-sponsor of bills dealing with affordable child care, paid parental leave and other infant and maternal health issues."
"Parenthood isn't just a women's issue, it's an economic issue and one that affects all parents — men and women alike," Duckworth said. "As tough as juggling the demands of motherhood and being a Senator can be, I'm hardly alone or unique as a working parent, and my children only make me more committed to doing my job and standing up for hardworking families everywhere."
The Democratic Senator from Illinois was already one of just 10 women to give birth while serving Congress when she gave birth to her first daughter Abigal in 2014 as a member of the House of Representatives. But now Duckworth is officially the only person to give birth during their time in the United States Senate, and as such is in uncharted political waters.
Duckworth won't be able to technically take maternity leave, as the U.S. Senate has no official maternity leave policy and taking leave would mean she wouldn't be able to participate in floor votes.
"You are not allowed to bring children onto the floor of the Senate at all," Duckworth said on Politco's Women Rule podcast in February. "If I have to vote, and I'm breastfeeding my child, especially during my maternity leave period, what do I do? Leave her sitting outside?"
However, according to Sean Savett, a spokesman for Duckworth, the Senator will be taking as much time off as possible to spend time with Maile.
"She's going to be taking much of the next 12 weeks to spend time bonding with her new daughter and spending time with her family," said Savett. "But she will be available for close votes as needed."
This article was originally published on