This Map Shows, Hands-Down, the Best States to Raise a Family In
Access to safe neighborhoods, affordable childcare, and fun activities make a big difference.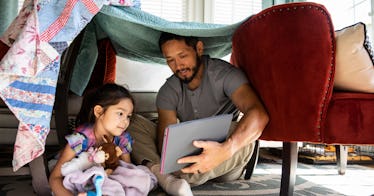 MoMo Productions / Getty Images
There's a lot of work and stress that comes with raising a family. Parents worry about the safety of their neighborhood, how affordable it is to buy or rent, childcare costs, and other supports available within the place they decide to put down their roots. And, of course, not all states are made the same, and a new survey highlighted the best and worst states to raise a family based on key metrics.
WalletHub wanted to determine which states were the best to raise a family and which states were the worst. Using data, WalletHub compared 50 states looking at key indicators of what's necessary for a family to be safe, happy, and healthy. The data pulls out 51 key indicators that point to family-friendliness and ranked the states from best to worst.
"In order to determine the best states to raise a family, WalletHub compared the 50 states across five key dimensions: 1) Family Fun, 2) Health & Safety, 3) Education & Child Care, 4) Affordability and 5) Socio-economics," the site explains.
"Raising a healthy, stable family sometimes requires moving to a new state," WalletHub continues. "The reasons people choose to move are often similar: career transitions, better schools, financial challenges or a general desire to change settings."
Based on the weighted metrics, WalletHub determined the worst states to live in to raise a family are:
10. Georgia
9. Nevada
8. Alabama
7. Arkansas
6. West Virginia
5. Oklahoma
4. South Carolina
3. Louisiana
2. New Mexico
The worst state to raise a family: Mississippi
Source: WalletHub
However, all is not bad. If you're looking for a new adventure and move, these are the states that are the best overall:
10. New Jersey
9. North Dakota
8. Washington
7. Connecticut
6. New Hampshire
5. Nebraska
4. Minnesota
3. Vermont
2. New York
The best state for families: Massachusetts
Of course, these aren't one-sized-fits-all situations for every family. But we know that when parents and kids have access to these supports it makes a major difference for the whole family. The answer might not be to have everyone pack up and move to Massachusetts though. However, spending time and resources to better the lives of families living in the "worst" states might be the key.