Which Marvel Movie Will Have Stan Lee's Last Cameo?
The comic legend found a second career as an iconic cameo actor in dozens of superhero movies. When will fans get to see him on screen for the final time?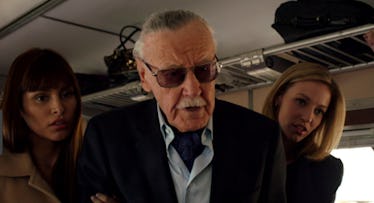 Marvel Studios
Earlier today, Marvel Comics co-founder Stan Lee passed away at the age of 95. Lee became a comic book legend as the creator of countless beloved superheroes, including the Fantastic Four, Spider-Man, The Incredible Hulk, Black Panther, X-Men, Iron Man, and The Avengers, and when his characters made the jump from the page to the silver screen, Lee found a second career as a beloved cameo actor, appearing in more than 50 films over his career. But with Lee's death, comic book fans are wondering when they will see Lee on screen for the final time.
Currently, there are four Lee-adjacent superhero movies that have finished filming: Captain Marvel, Avengers 4, Dark Phoenix, and Spider-Man: Far From Home. Should fans expect to see Lee in all of these films, none of them, or just a few of them? Here is what we know so far.
Spider-Man: Into the Spider-Verse
Yes, its an animated movie, and yes it's not part of the Marvel Studios cinematic universe, but based on some recent comments from Marvel's CEO Kevin Feige, it seems like it's possible Stan Lee will show up in this movie in some way, shape or form.
Captain Marvel
The highly-anticipated next chapter in the Marvel Cinematic Universe comes to theaters on March 8, 2019, and, at this time, there does not appear to be any information regarding Lee appearing in Captain Marvel. However, filming wrapped back in July, suggesting that there is a decent chance that Lee may once again pop up in a quick cameo.
Avengers 4
Despite coming out after Captain Marvel — Avengers 4 is slated to be released May 3, 2019 — this is the MCU film that appears to have a confirmed Lee appearance, based on a quote from Avengers: Infinity Wars co-director Joe Russo.
"So, Stan, typically we try to get him out — he doesn't love to fly — so we try to get him out for his cameos around the same time," Russo said in an interview with BBC Scotland Radio. "So if we have other movies shooting on the same lot that we're on, for instance, Ant-Man 2 or Avengers 4, we group his cameos together and then move him from one set to the next and kind of get him through his cameos in one day. But he's great and a blast to have on set and everybody loves it."
It's worth noting that this interview was back in April, so it is possible that Russo was speaking speculatively. However, at this point, it appears the fourth Avengers movie has the highest chance of featuring Lee for the final time.
Dark Phoenix
There is currently no information regarding where Lee filmed a cameo for the upcoming X-Men film but Dark Phoenix, which is slated to hit theaters June 7, 2019, does have the benefit of wrapping filming over a year ago. Lee has appeared in several X-Men films, most recently in 2016's Apocalypse but also did not cameo in several films. So while there is certainly a chance he will share the screen with Professor X and Magneto one final time, don't be surprised if he is not in Dark Phoenix.
Update: According to Entertainment Weekly, Lee will not appear in Dark Phoenix.
Spider-Man: Far From Home
Unfortunately, it's unlikely that Lee will be in the upcoming Spider-Man sequel, as Far From Home didn't wrap filming until last month. It's possible that Lee was able to squeeze in one final MCU cameo but the odds appear to be slim.
This article was originally published on