This Newborn Baby Goes Viral After Staring-Down Her Doctor Seconds After Birth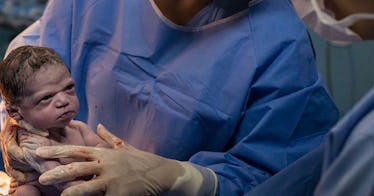 Many parents are opting to have a birth photographer attend their baby's labor and delivery to capture those first fleeting moments. Looking back at the images of the baby's first breath, or the first time that dad and baby lock eyes is extraordinary. This one birth photographer captured an epic photo of a newborn's first look, staring down her doctor just moments after her birth. The moment this little one was born in Rio de Janeiro, Brazil, on February 13, she had one mood: not impressed.
Photographer Rodrigo Kunstmann has been a professional photographer for 11 years, a birth photographer for 4 years. Recently, he was present during a c-section to help the parents capture those precious first moments, and one of his photos has gone viral. One look at the viral photo and it's obvious why everyone loves it – the baby is not playing around.
Speaking with Brazilian publication Crescer, Kunstmann said (translated via Google translate), "She opened her eyes wide and didn't cry, she made a 'sulky' face, her mother gave a kiss, and it was only after they cut the umbilical cord that she started to cry." Adding, "When I posted it, I thought it would have the potential to become a meme, but it's always a matter of luck."
The image has gone viral because of the little girl's "don't mess with me face." It's racked up more than 1,600 likes, over 550 shares, and Kunstmann says the popularity of this photo has changed his career and his life.
"Childbirth is a unique moment," he said. "I can only consider myself a blessed person. I feel like a lottery winner."
Many congratulations to the parents on the birth of their gorgeous girl, and it's clear she's going to change the world.
This article was originally published on