Unvaccinated Kids Are 8 Times More Likely to Get COVID, Study Says
A study out of North Carolina found that unvaccinated students were eight times more likely to become infected with COVID-19 than their vaccinated peers.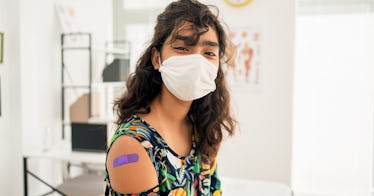 Phynart Studio / Getty Images
If you've been on the fence about getting your children vaccinated against COVID-19, a new study might convince you. Researchers from Duke University found that unvaccinated students are more likely to acquire the virus than their vaccinated peers.
For the study, which has been peer-reviewed and will be published in the journal Pediatrics, researchers analyzed data compiled from Aug. 1, 2021, through Nov. 21, 2021, on the COVID status of over 1,100 6th-12th graders in a North Carolina private school. The team found that unvaccinated students were eight times more likely to become infected with COVID-19 than vaccinated students.
During the period in which the data was collected, the county the school is in was deemed a high transmission county by the Centers for Disease Control and Prevention (CDC), with the Delta variant causing 99% of reported cases county-wide. Masks were required on campus for the majority of the study period, social distancing was not strongly enforced, and the school did not use high-efficiency particulate air (HEPA) filters. Students in the school were in 6th to 12th grade.
The school reported that 829 students were vaccinated and 299 were not. Of the vaccinated students, seven became infected, while 20 of the unvaccinated students became infected. The majority of the vaccinated students who became infected were asymptomatic, while the majority of the unvaccinated students were symptomatic.
These findings come at a time when child vaccination rates are dwindling, mask mandates are expiring, children under five are still not approved for vaccination, and at least one state (Florida) is actively recommending against vaccination for healthy children, in opposition to CDC and WHO guidelines.
Very few kids are vaccinated against COVID-19 despite having vaccines eligible to their age groups. As of Jan. 2022, just a quarter of 5- to 11-year-olds were fully vaccinated against COVID-19. In the same time frame, some 60 percent of kids aged 12 to 17 were fully vaccinated. Meanwhile, on Tuesday, March 8th, Florida state lawmakers released official state guidance discouraging vaccination against COVID in children. "The Florida Department of Health is going to be the first state to officially recommend against the COVID-19 vaccines for healthy children," State Surgeon General Joseph Ladapo said during a vaccine roundtable discussion on West Palm Beach on Tuesday.
Not every Floridian is on board, though. "Governor DeSantis and Dr. Lapado are once again confusing Floridians by promoting dangerous COVID-19 misinformation that goes against all mainstream medical guidance," said Florida Agriculture Commissioner Nikki Fried in a statement. "I urge all Floridians to continue to follow the COVID-19 guidance provided by their doctors, in addition to the FDA and the CDC, and not the anti-science conspiracy theories DeSantis and Ladapo are pushing."
The findings of the North Carolina study corroborate existing evidence proving the efficacy of vaccination and indoor masking in slowing the spread of COVID. However, it's worth mentioning that the study had a few limitations. All data regarding vaccination status was self-reported, and researchers stated that some asymptomatic infections could have been missed by the team since serial testing was not required. The study was also performed at only one school, a private school in an urban area, and data was collected before the first announced case of the Omicron variant. And, the vaccine has been shown to be more effective in teens than younger kids, likely due to dosage issues — this study is specifically of kids aged 12 to 17.
Despite those limitations, the study effectively corroborates evidence of the efficacy of vaccination to slow the spread of COVID in schools.