Having a Teacher of Color Is Linked to Academic Gains for All Kids, Study Shows
It's long been known that students of color thrive under teachers who reflect their race. But a new study shows that teachers of color are associated with higher success for all students.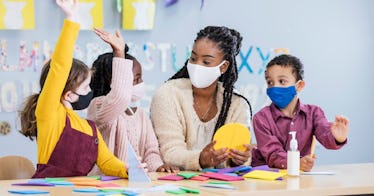 kali9 / Getty Images
It's been known for a while that students thrive under teachers who are of the same race or ethnicity, but it turns out that teachers of color benefit all students academically and socially, and emotionally.
According to a new study, teachers of color are associated with higher academic and emotional success for students of all races and ethnicities.
Researchers believe that these benefits are due, in part, to the likelihood of teachers of color practicing what's known as culturally responsive teaching (CRT). Developed by Geneva Gay, culturally responsive teaching is the practice of "using the cultural knowledge, prior experiences, frames of reference, and performance styles of ethnically diverse students to make learning encounters more relevant to and effective for them."
Some examples of CRT include having a wide range of curriculum content including books that have "characters that look like them and settings that look like their communities." Others would be inviting "parents, caregivers, … and community members… to share stories, give historical overviews of a community… and provide cultural bridges between the larger community and the school community," per Houghton Mifflin Harcourt.
The latest study, led by David Blazar from the University of Maryland, examined 4th and 5th graders who were randomly assigned to teachers. Students who were assigned to teachers of color were absent less often, scored higher on math and language tests, completed tasks, and showed higher engagement than other students—and those effects lasted well into high school.
Blazar points to teachers of color believing that "all students can learn," per EdWeek, and that they "are more likely to hold students to high expectations." Teachers who use CRT are also more likely to have relationships with the families of their students and will use more dynamic instruction to respond to the needs of their students — leading to all to succeed.
Blazar's analysis found that teachers of color were more likely to use CRT than their white colleagues, but he said he couldn't rule out other factors. Racial biases may also play a role in the results. For example, past research has shown that white teachers have lower expectations of Black students than of white students and subsequently may not provide the same amount of academic rigor. These lower expectations can result in children failing to meet their potential, in what researchers called a "self-fulfilling prophecy."
Conversely, teachers of color who practice CRT, knowingly or not, tend to see intelligence as changeable and therefore have higher expectations of students of color than their white teachers do.
These findings show the importance of hiring and retaining teachers of color in the American education system—which is 79% white. There are several ongoing initiatives to recruit and retain teachers of color, but according to data compiled by the National Center for Education Statistics, the number of Black elementary school teachers in the U.S. has actually dropped since 1999.
Turnover among teachers of color, especially Black teachers, is high. Past research has found that many Black teachers resign due to the prevalence of racist microaggressions from white parents and students and from colleagues and superiors. Though many are attempting to address the widespread systemic racism endemic in the U.S. educational system, employee attrition is high among teachers of color, which, as evidence shows, is bad for all students.
"White students are benefitting from what is happening here, from having teachers of color, from culturally responsive teaching," Blazar said. "This doesn't need to be a 'them or us' discussion."