Over Half of Americans Want Student Debt Cancelled, According to a New Survey
1 in 8 Americans has student loan debt, totaling a startling $1.5 trillion.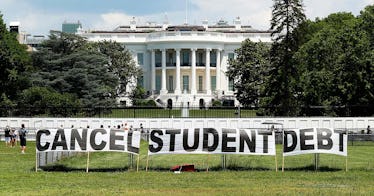 GETTY
This year, particularly, has been financially challenging for many Americans because of the pandemic. But long before the pandemic crisis, another crisis been brewing for many millions of Americans and in particular millennial parents: the financial burden of going to school and accruing student loan debt.
Student loan debt is a crushing reality for millions of Americans, one that makes it harder for them to gain wealth and engage in the classic middle-class economic behaviors like having kids or buying a house.
Jokes point to the fact that people will spend their entire lives trying to pay it all back. And while prominent politicians dilly dally about whether or not they will cancel any amount of student debt, a new survey points to the fact that a lot of Americans really just want those debts canceled outright, making it look a lot like a bipartisan policy. Here's what we know.
A survey from GOBankingRates – a personal financial portal – was released last week. It shows how strongly people wish that debt could just go away. CivicScience helped GOBankingRates sent out a poll asking 3,633 Americans asking: "Which approach to student loan forgiveness do you think the U.S. should adopt?"
The poll collected responses from April 16 to May 18. The results were recently compiled, showing a large number of Americans are ready to drop the loans. According to the results, 52 percent surveyed support blanket student-loan forgiveness, meaning giving everyone who has a student loan debt can have it vanished into thin air.
Twelve percent of respondents said they would support loan forgiveness for people with low income and high debt. In comparison, 11 percent say they would support loan forgiveness for people who work in public service. Four percent said they would support temporary forgiveness to help people get through the pandemic.
"The GOBankingRates poll found that the majority of both men and women are in support of blanket student loan forgiveness, as are most Americans across age groups," the results read. "However, there is more of a split in opinions among the 65+ age group — 39 percent support blanket student loan forgiveness for all borrowers and 36 percent do not believe that the federal government should undertake loan forgiveness."
As previously reported, one in eight Americans has student loan debt, amounting to a startling $1.5 trillion, which falls disproportionately on people of color, women, and those with non-lucrative careers. Currently, Biden's administration hasn't come through on the campaign promise to forgive $10,000 in student loan debt. Still, it doesn't sound like he's abandoned it fully.