1,000 Professors Push Biden to Cancel Student Debt: "Biden Has Complete Legal Authority"
"In other industrialized countries, higher education, like healthcare, is regarded as a public good and as a right, but in the U.S., it has been turned into an expensive commodity."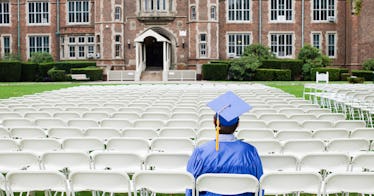 Sean De Burca / Getty Images
Over 1,000 faculty members from universities across the country have signed a letter highlighting the importance of President Joe Biden to follow through and cancel student debt for those who borrowed through the federal system. The collective is urging the Biden administration to cancel student loan debt before these payments are set to resume, and student loan forbearance is set to end, on May 1. Here's what you need to know.
"We see universal debt cancellation as a powerful first step in the process of reinvestment in quality public education," the letter, organized by the Debt Collective, and signed by professors at top universities including Yale, Berkeley, and Columbia, reads, according to Insider. The letter acknowledges that canceling student debt won't solve the ongoing inequalities when it comes to higher education access, however, they note it's an essential first step.
They're calling on Biden to follow through on his campaign promise to reduce student debt. In the letter, the collective makes the argument that the government doesn't need these federal student loan interest and payments, and that's been recently proven.
"Since March 2020, federal student loan interest and payments have been paused — proving that the federal government doesn't actually need our student loan payments to function," the letter reads. However, with the resumption of payments just around the corner, the professors are putting more pressure on the government to follow through.
When Biden was running for president, part of his campaign platform included canceling $10,000 in student debt per borrower. And while President Biden has canceled some student debt for hundreds of thousands of borrowers (some $17 billion worth) — for people who were defrauded by for-profit colleges, and for those who cannot work to pay off their loans, widespread loan cancellation has not yet happened.
And while those changes have been beneficial, it's a far cry from the administration's campaign promises for the remaining 45 million Americans who still have student debt and no timeline for when or if those will be included in any upcoming forgiveness. Debt forgiveness, for example, isn't included in President Biden's budget proposal for 2023.
The average student loan debt, as of March 31, 2021, sits at a collective $1.6 trillion in federal and private student loan debt, according to the U.S. Department of Education. This works out to be an approximate average of $57,520 of student debt owed per household. That debt holds Americans back from having children, buying homes, and saving for retirement. Some parents are paying down their own student debt, for example, while also trying to figure out how to pay for their kid's college aspirations.
And while debt cancellation is likely something that's dead on arrival in Congress, the signee professors say Biden doesn't need to go through Congress to make this first step.
"Through executive action, President Biden has the complete legal authority to eliminate student loan debt on his own —without Congress– and it is a step supported by a majority of Americans," the letter continues. "In fact, the Debt Collective has already written an executive order President Biden could sign today to end this financial burden."
Adding, "In other industrialized countries, higher education, like healthcare, is regarded as a public good and as a right, but in the U.S., it has been turned into an expensive commodity. Universal debt cancellation would be the first serious step toward the goal of College for All that we have seen in our lifetime."