Anxiety and Stress Skyrocketing as Workers Return to the Office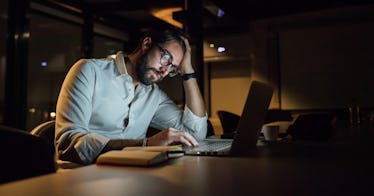 Eugenio Marongiu / Getty Images
A new study is sheading light on how some of the "return to normal" policies are affecting people. Just over two years since the COVID-19 pandemic began, shifting office culture and a whole lot more, workplaces are easing back into the in-office standards. And with those shifts come skyrocketing levels of stress and anxiety. Here's what you need to know.
A recent survey from Future Forum reports stress and anxiety levels related to work are at the highest levels since the survey first began in June 2020. On Tuesday, April 19, 2022, the research consortium from Slack and its partners released the survey results from over 10,000 workers conducted in January and February this year. And as more and more workplaces return to "normal," it's having a toll on people – particularly for people who are returning to the workplace.
"Over the last couple of years, people have been able to experience more schedule location flexibility," Sheela Subramanian, vice president of Future Forum, told Insider. "Now these mandates are saying, 'Return to how things were in 2020,' and we're seeing a lot of employees are struggling as a result."
The survey's employee-satisfaction scores were the lowest they've ever been across the six reports by Future Forum. Only 6.7 percent of in-person workers surveyed said their stress and anxiety levels at work didn't impact them, saying they still felt good. That's down from 11.1 percent from last quarter. And the stats only get worse from there.
The survey found that workers really value flexibility in hours and workplace. 94 percent of respondents said they wanted to have flexibility in their schedule, and 51 percent reported that flexibility wasn't something their employer offers. And those who weren't offered that flexibility were 20 percent more likely to say they would look for another job. Employees who have to work in-office report 1.5 times the amount of work-related stress and anxiety when compared to remote workers.
We know that the pandemic and large shift of remote work has been both good and challenging for working parents. Particularly for women who have had to juggle a larger portion of the home while balancing work roles, too. The survey found that the percentage of women who want work flexibility three days a week or more rose to 58 percent, while 48 percent of men said the same thing. Those numbers skyrocket when looking at working mothers with an all-time high of 82 percent saying flexibility is very important.
The data shows that when workplaces have this rigid schedule and work location, it has significant adverse impacts on their employees. Those who have no flexibility report 2.2 times worse work-related anxiety and stress; 1.7 times worse work-life balance, and 1.4 times worse burnout than workers who do have that flexibility.
"Leaders need to move away from dictating days in the office and rigid 9-to-5 schedules and focus instead on aligning their teams around a common purpose and leading by example," said Brian Elliott, Executive Leader of the Future Forum. "Trusting your teams with the flexibility to work where and when works best for them will lead to better business results and happier employees."
With the "great resignation" in full swing where people are seeking out companies that give the best balance and flexibility, particularly for working parents, there's a lot in this survey for companies to learn – and hopefully they will.