"Storyliving by Disney" Is the Housing Dystopian Nightmare We Couldn't Have Even Joked About
Live and breathe Disney? Now you can die there, too.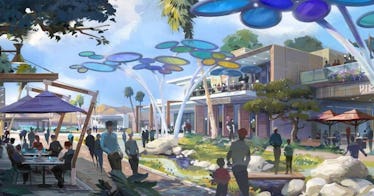 The Walt Disney Company
Are you a diehard Disney fan? Do you relive memories of time spent at the parks or re-watch fairy tale movies long into adulthood? Gone are the days that these stories were seen only for children, and the company knows this too. This is why the company is launching a new project that aims to give people who live and breathe Disney an additional experience: dying at Disney. Well, at least retiring at Disney. Maybe dying at Disney.
According to Gizmodo, Disney announced a new project in development called Storyliving by Disney — the idea being taking storylines from Disney and transforming them into "storyliving" by immersing people into the world of Disney. Essentially, it's a fancy way to say they're building a residential community that will resemble a vacation at Disneyworld or Disneyland, except that's where you live until you die. (And you don't actually have to be a retiree.)
"As more and more fans look for new ways to make Disney a bigger part of their lives, The Walt Disney Company today announced plans to introduce Storyliving by Disney, vibrant new neighborhoods that are infused with the Company's special brand of magic," the official Disney announcement reads.
We get it – the universe of Disney is fun! You grow up with these magical stories. You watch superheroes and princesses and musicals and you think, hey, this is kind of fun. And let's face it, that fake reality can be way better than ours at times. After all, unless you're the villain in the movie, everything always works out. And that probably sounds extra magical to all of us right now. But this… it's a little weird, right?
"These master-planned communities are intended to inspire residents to foster new friendships, pursue their interests and write the next exciting chapter in their lives—all while enjoying the attention to detail, unique amenities, and special touches that are Disney hallmarks," the announcement continues.
All the details are still in the planning phases but what we do know is that the first location (meaning they're probably planning a bunch of these) will be called Cotino and will be located near Palm Springs. It will include close to 2000 housing units including single-family homes, condos, and full estates. The community will be open to all ages, but there will be "at least one section" for people of retirement age only.
It sounds like this living experience will be similar to a Disney visit, where you're fully immersed in the Disney world (Epcot! the Magic Kingdom! Dole whip! $300 popcorn buckets!) with all the amenities of the resort or cruise line, except you'll live there. All the time.
"Cotino also has Specific Plan approval for a vibrant mixed-use district featuring a range of shopping, dining and entertainment, a beachfront hotel and a professionally managed beach park with recreational water activities that can be accessed by the public through the purchase of a day pass," the announcement reads.
This isn't the first time Disney has attempted something like this. "Disney attempted a similar but less compact idea in 1996 with the town of Celebration, Florida," Gizmodo reports. "It still exists but the company no longer owns it."
This article was originally published on