Stimulus Checks Sent To Social Security Recipients — What to Know
The next batch of stimulus checks is being sent out to people who don't normally file taxes or receive SSI. Here's what to know.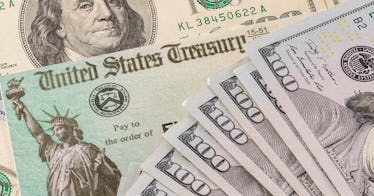 The third round of stimulus checks has been sent out in waves to those who qualify after President Joe Biden signed the American Rescue Plan into law in early March. While many millions of Americans are still waiting on their checks, those who receive Social Security are still waiting on their round of checks. Luckily, the Internal Revenue Service (IRS) is about to send out the next round of checks specifically to those groups — filling in a massive gap of who payments have gone out to. Here's what to know about the next batch of stimulus checks and when you can expect to receive them.
Who Are the Next Batch of Stimulus Checks Going To?
The next group of folks to receive their $1,400 stimulus payment will include people receiving Supplemental Security Income (SSI), Social Security Disability Insurance (SSDI), and retired railroad workers. This batch of checks also includes anyone else who doesn't normally file a tax return, like dependents.
The IRS reported that strict steps had to be followed to validate payment and eligibility for this group of Americans. This process is the reason there's been a delay, according to officials.
"The IRS announced on March 30 that it will begin to issue economic impact payments (EIP) this weekend to Social Security and SSI recipients who do not normally file a tax return," a statement reads on the Social Security website. Adding, "The majority of EIPs will be paid through direct deposit and to existing Direct Express cards, and should be received on April 7."
When Will Stimulus Checks Be Disbursed?
While most Americans should have received their third stimulus in March, according to CNET, the IRS and Department of Treasury announced that the 30 million people who fall in this category should start to receive their electronic stimulus check by April 7.
That means payment will be received through a Direct Express card or direct deposit. Anyone concerned about eligibility or the timing of the check can track that information online. The details for the third round for Social Security beneficiaries won't be accessible until the weekend of April 3-4.
There's also a chance that a paper check will be mailed out if there's no direct deposit information on file. In those cases, the IRS explains a delay and likely won't receive by April 7.
What To Do If You Haven't Gotten A Stimulus Yet?
There are several reasons why a stimulus check may be missing. The most likely reason is if you haven't yet filed your 2020 taxes.
In some cases, you may receive a letter from the IRS confirming the payment was sent out. However, if you didn't receive the money, you may have to contact the IRS to request a payment trace to see what happened. You can also check the 'get my payment' module on the IRS website to see what the status of your payment is if you qualify but still haven't gotten the money you deserve.
Who Might Be Next?
The next in line to receive their stimulus is those who receive Veterans Affairs benefits. The IRS notes that at this time there aren't details available on when people can expect those to be processed and sent out. A payment date and more details are expected to be revealed soon.
Will There Be A Fourth Stimulus Check?
At this time there isn't a fourth stimulus check planned, though a growing number of Senators and Representatives have been calling for the Biden administration to send a fourth, or recurring, cash assistance for Americans in need for the duration of the pandemic.
This article was originally published on