Stimulus Check Calculator Shows How Much You'll Get With New Income Limits
Stimulus checks are coming soon, but with more punitive and sharp income drop-offs. How much should you be expecting?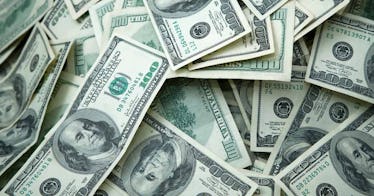 Today, the House will place a final vote on the $1.9 trillion coronavirus relief package that was approved by the Senate over the weekend. The relief bill is expected to pass through the House successfully and then will be officially signed into law today or tomorrow by President Biden. This would mean that $1,400 stimulus checks could begin reaching some people as soon as this weekend, with the majority of those eligible likely receiving their checks by late March or early April.
However, while the latest stimulus checks are coming, they will also come with more punitive income limits, meaning that some people will be receiving less than $1,400 and others won't be receiving any money at all. Similar to the previous rounds of stimulus checks, the amount of money a person receives will be based on adjusted gross income (AGI) but this particular stimulus package comes with steep drops in payment, meaning that if you earn over a certain income threshold, how much money you receive will drop off sharply.
The soon-to-be-passed relief package is set to provide at least some stimulus to married couples filing jointly earning less than $160,000 per year, individuals earning less than $80,000 per year, and heads of households earning less than $120,000 per year.
However, only individuals who earned less than $75,000, married couples filing jointly who earned less than $150,000, and heads of households who earned less than $112,000 will be eligible for the full $1,400. The newest round of stimulus relief came with a dramatic acceleration of the phase-out of payments, meaning those who earned more than the lower threshold without reaching the maximum cut-off should be expecting to receive a stimulus check but it will be less than the full amount, as the stimulus drops off as the adjusted gross income gets closer to the cut-off.
So basically, individuals making between $75,000 and $80,000, joint filers making between $150,000 and $160,000, and heads of household making between $112,00 and $120,000 will get less than $1,400 and the closer you get to the cut-off, the less you'll receive. But if you do fall into this middle ground of people eligible for some stimulus relief, you may be wondering how you are supposed to have any idea how much money your family will be receiving in the latest round of stimulus.
Fortunately, you don't have to figure that out by yourself, as this stimulus calculator from CNET can help you figure out exactly how much financial relief you can expect to receive. All you need to do is input your filing status, adjusted gross income, and the number of qualified dependents you claim on your taxes and the calculator will let you know how much less than the $1,400 you will be receiving. Having a clear number should hopefully provide people with peace of mind as they attempt to create the best financial plans in the wake of the ongoing COVID-19 pandemic.
If you are someone who lost their job or some of your income over the last year, you may want to file your taxes as soon as possible. The amount of stimulus you receive will be calculated based on your most recently filed taxes, so you will want those to be as up-to-date as possible to ensure you can receive the maximum possible payment.