Popular Toy Shopping Cart Has Been Recalled: Here's What Parents Need to Know
There have been 22 reports of the cart breaking into sharp pieces.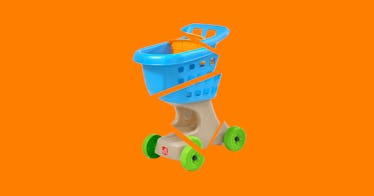 A popular toy shopping cart for kids has been recalled after receiving reports of some models breaking into pieces, causing a laceration concern. Step2 along with the United States Consumer Product Safety Commission (CPSC) have recalled certain models of its Little Helper's Shopping Carts and here's what parents need to know.
On February 27th, Step2 announced a recall of their toy shopping carts sold in both the United States and Canada. "It is possible that the basket on certain of these models may not meet our durability standards and prematurely break, posing a potential safety risk," a statement posted on Step2's website said. "We have isolated the issue to baskets on those models that were manufactured in May of 2019."
The CPSC recall notes that Step2 has received 22 reports of the basket of the toy carts breaking into sharp pieces causing a potential laceration hazard for children. Thankfully, no injuries have yet to be reported.
More than 20,000 carts are included in the recall – breaking down to approximately 17,000 units in the US and another 3500 in Canada. To find out if your kid's toy is included in the recall, you need to check on the shopping cart handle for a date code combo of 5 and 19. The models affected in the recall include both the blue shopping basket and the tan cart and the pink basket and grey cart. Model numbers are 700000, 8567KL, and 708500.
Step2 and the CPSC have asked parents who have these recalled models to "immediately stop using the shopping cart" and get in touch with the company for a free replacement or a $40 credit to be used toward the purchase of another Step2 product.
Parents can get in touch with Step2 by calling the company at 800-347-8372 or by filling out a form on its website.
If the Step2 Little Helper's Shopping Cart was your toddler's favorite toy, there are some other brands with similar products that can take its place. Here are a few of our favorites:
1. Battat – Grocery Cart
This cart is very similar in look and feel as the Step2 version and comes with 23 pieces of food items that your child can play with too. The cart is recommended for kids 3 years old and up and is sold on Amazon for $21.99
2. Melissa & Doug Toy Shopping Cart
Why not level up your kid's shopping cart with this version from Melissa & Doug? It's made of sturdy metal and looks like a miniature version of the real thing. Your child can play with this at home or take with them to the real grocery store and plan out their tea party. You can grab this on Amazon, too for $57.99.
3. Play Circle
Another cute kid cart, this version is recommended for kids aged 3 and up and also comes with some fun fake food to play with. The pink version is good for a toddler who wants a more playful looking cart, and it's not too massive that you'll be tripping over it at every turn. This one is available on Amazon for $25.99.
This article was originally published on