This Map Shows Which States Had The Most Stay-At-Home Parents During COVID
There are several reasons why 2021 saw a big rise in stay-at-home parents, and rarely was it by choice.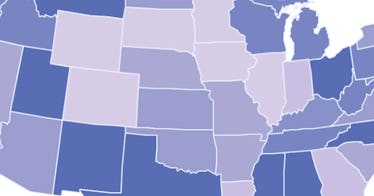 magnifymoney.com
For many parents, working or otherwise, 2020 held bigger challenges than we anticipated. Once COVID-19 hit, everything in our life shifted. Nearly overnight, America's working parents had to juggle working from home, monitoring remote learning, losing work, and safety against a virus. It was an impossible juggle, and many parents, mostly working moms, had to leave their jobs in order to survive the year. But not all states across the United States had the same results. Some states had more stay-at-home parents due to the coronavirus than others.
A personal finance website site, MagnifyMoney, collected data from the American Community Survey microdata hosted on IPUMS and the U.S. Census Bureau. Using the information, they calculated the percentage of two-parent homes where at least one parent is home with the kids and isn't a part of the labor force. MagnifyMoney then compared pre-COVID data from 2019 and 2021 data, mid-COVID, and calculated the percentage of differences. And what was found is striking.
According to the data, several takeaways highlight just how challenging the pandemic has been for parents. This includes the fact that the percentage of parents staying home with the kids during the pandemic rose 60 percent from 2019 across all 50 states plus the District of Columbia.
There's Been A Big Rise In Stay-At-Home Parents During The Pandemic
On average, 2.4 percent of parents are now staying home with their kids as of early 2021. This is up by 1.5 percent from 2019. The data points to the fact that the increase in stay-at-home parents in 2021 was fueled more by the situation than choice.
"For example, 9.9 million jobs were lost nationwide from February 2020 through December 2020," the site reports. Adding, "meaning many parents may have settled into a stay-at-home routine with their kids as a result." Most of these jobs were lost by women — and in December 2020 alone, every single job lost was held by a woman.
The report also notes that parents who aren't staying home with the kids have more options available. This includes a job deemed essential, or parents who have support from a partner or another family member who can care for the kids, making it possible for them to work outside the home.
This Map Shows Which States Had The Biggest Rise In Stay-At-Home Parents
MagnifyMoney then dug a little further to look at which states had the most stay-at-home parents during the COVID pandemic in 2021, compared to pre-pandemic. According to the data, Mississippi tops the list of states with the most stay-at-home parents, with 6.5 percent of households having at least one parent staying home with the kids. In second place came Delaware at 5.6 percent, and Texas with 3.5 percent.
The states with the lowest proportion of parents staying at home with their kids in 2021 include Iowa at 0.9 percent, Minnesota at 1 percent, and Maine at 1.2 percent.
With all the data compiled, there were only 4 states that had fewer stay-at-home parents in 2021 than before the pandemic, including California with a 16 percent decrease and Louisiana with an 11 percent decrease.
As more data and numbers like this become available, even though we're living through the pandemic right now, it's still a surprise to see how hard it's hitting people, especially families.