Map Shows How Far People Will Have to Travel for Legal Abortions if 'Roe' is Overturned Monday
26 states are considered likely to ban abortions if they get an opportunity to do so.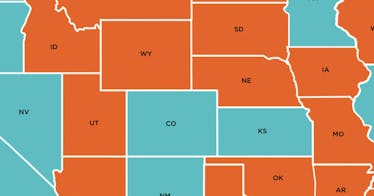 The Guttmacher Institute
It's been a challenging time for advocates for reproductive healthcare and to speak out against abortion bans. The Guttmacher Institute has pointed out just how grim it will get across the country if more rights are stripped away. The non-profit research and policy organization that campaigns for sexual and reproductive rights, released an interactive map that shows how far people will have to travel if the U.S. Supreme Court weakens or overturns the key abortion case Roe vs Wade. And it's scary.
The U.S Supreme Court is scheduled to hear arguments over the SB8 bill, Texas' abortion ban that removes abortion as a medical option after 6-weeks of pregnancy on November 1st. The month after, the court will be meeting to consider a proposed Mississippi law that aims to ban abortions after 15 weeks.
The interactive map puts the reality into perspective if these bans go into effect or aren't overturned, and if other states follow suit. The map works on the assumption that 26 states are considered most likely to ban abortions should they get an opportunity to do so.
"This interactive map allows users to see the potential effects of a total ban, a 15-week ban, and a 20-week ban on how far people seeking abortion care would have to drive to find care," the organization writes. "The map also shows which states are unlikely to ban abortion and would likely be a destination for people driving from states where abortion is banned."
For example, currently, the average distance someone in Montana would need to drive, one way, to access abortion care is 22 miles. If the state passed a total ban on abortions, that drive would increase by 1640 percent, to 362 miles, to access care in Washington.
Louisiana's average distance currently to drive to access abortion care is approximately 37 miles one way. If the state passed a total abortion ban, that one-way driving distance increases 1720 percent, to 630 miles, needing to drive to Illinois, North Carolina, or Kanas for care.
The Guttmacher Institute told Mashable in a statement that people trying to access abortion care would "have to travel extraordinary distances to get to an abortion clinic." In addition to that, the states the institute has called "destination states," meaning people would travel there to access care, would need to increase support to millions of more patients which is sure to have an impact on care overall.
You can explore the Guttmacher Institute's interactive map on the organization's website.