7 States Pass Laws Preventing Schools from Mandating, Tracking COVID Vaccinations
That's bad news for public health.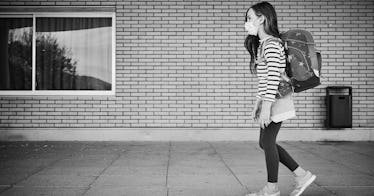 Politicians from both parties are eager for public schools to fully reopen for in-person instruction in the fall, and it's clear that anything resembling a safe reopening depends on as many students and staff receiving COVID-19 vaccines as possible. But standing in the way of sound public health policy is a divisive culture war issue.
Lawmakers in at least seven Republican-led states—Alabama, Arkansas, Florida, Indiana, Montana, Oklahoma and Utah—have enacted laws that prevent schools from requiring either coronavirus vaccinations or documentation of vaccination status in order to attend.
The specifics of the laws, which have been introduced in 34 different states, vary.
Alabama doesn't allow educational institutions to add any new vaccines to the list of required inoculations that predated the pandemic. Arkansas explicitly prohibits the requirement of any coronavirus vaccines, while Florida and Indiana banned requiring "vaccine passports."
Proponents of these laws use the language of privacy, "second-class" citizenship, and personal liberty to justify them. This argument breaks down when you consider that existing laws mandating older vaccines remain in effect—and have proven to be very effective—because the individual choice to vaccinate or not shouldn't outweigh the health of the public at large, which is clearly improved when mechanisms to encourage or require more people to vaccinate are in place.
"I do think there are a couple of questions that can help guide this debate in the future—and the first is that with more than 600,000 Americans dead, why would we want to take any legal public health tools off the table until we know what it will take to stop this?" asked Brent Ewig, a policy consultant for the Association of Immunization Managers, told CNN.
In guidance released last week, the CDC doesn't address vaccination mandates specifically. But it does say that "promoting vaccination can help schools safely return to in-person learning as well as extracurricular activities and sports." Preventing schools and colleges from tracking who is and isn't vaccinated or mandating such vaccinations is a roadblock to such promotion.
Another issue is the fact that all of the vaccines that are currently being administered under emergency use authorizations from the FDA. According to Dr. Anthony Fauci, permanent approval of the vaccines is "as good as done." It could open the door to the widespread addition of COVID-19 to the vaccines incoming students must have before attending school.
But the nationwide effort to limit what schools can do to protect their students is a sign that even after that approval comes, the fight to mandate and track vaccinations—and protect the public health of all Americans—will be far from over.