Why Disney's Star Wars Hotel May Not Actually Happen
The backlash might be stronger than the Force...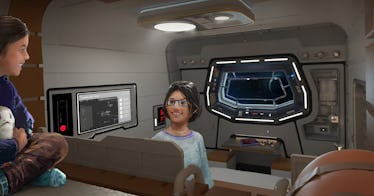 Disney
The first fully immersive Star Wars experience at Disney World – a themed hotel – was set to open in the early spring of 2022. There was a lot of hype when the project was first announced; however, Disney's Star Wars hotel may not happen, thanks to backlash.
The Galactic Starcruiser was promising to be a life-changing, mind-blowing experience for guests. The hotel isn't like any other in Disney. With more of a cruise feel, guests would spend most of their time inside the hotel. But it wasn't just any ol' hotel. This would be transformed to make guests feel like they were a part of the Star Wars universe – cosplayers and all.
"Star Wars: Galactic Starcruiser is much more than a hotel," an FAQ on Disney's site says. "Star Wars: Galactic Starcruiser is an entirely new vacation experience: a 2-night, immersive adventure where you choose your own path within an epic Star Wars story."
There were already some confusion points for potential guests when the hotel was first announced in August 2021. The ship design was confusing because it's not very Star Wars like. The indoor aspect wasn't exactly appealing (who wants to be stuck indoors after the past two years?). Also, the price tag is ridiculous at $5000 for a minimum 2-night stay for two people. And while true fans would fork over cash to have an incredible Star Wars experience, this hotel, based on early looks, doesn't hit the mark.
All of that seems to have caught up with the hotel, and now it might not happen at all. According to SFGate, first looks at the hotel were met with criticism. And it didn't get better when earlier this week, Disney shared its welcome video for guests who have already booked a stay at the hotel.
The video is incredibly cheesy. It gives off serious Power Rangers vibes, void of the complex characters we know from the Star Wars universe. People took to social media to share their disappointment—and didn't hold back on how they really feel.
"This looks like a kids tik tok fanfiction shot on his cell phone, not an actual element to a rather expensive vacation trip, aboard a star ship," one person wrote on Twitter. "Bizarre this is real. If I bought this package trip and I saw this video, I'd feel like I just wasted a couple grand."
The backlash was so swift and heavy that the company reportedly removed the promo video from its social media. Now, the hotel may not happen. The company hasn't addressed the negative attention the promos have received yet. But the seeming lack of care to the details plus that ridiculous price tag means legitimate franchise fans may be less likely to spend the cash. Which might have the company re-thinking plans.
This article was originally published on