ICYMI: A 4-Year-Old Bought $2,600 Worth Of SpongeBob Popsicles Online
His mom, who is getting her master's degree at NYU, understandably needs help paying off the popsicle debt.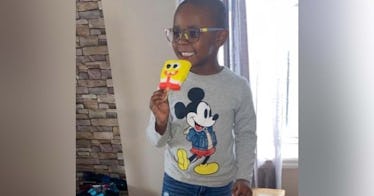 Most of us are prepared for the reality that our kids will likely do something that upsets us, and it will probably be something very expensive. From breaking a priceless heirloom to going nuts on Robux, kids are creative at spending their parent's money while also not really grasping the consequences of their actions. These facts can lead to some interesting conundrums, like a 4-year-old who bought a whole lot of SpongeBob popsicles online — like, 1,000 a whole lot — from Amazon.
Jennifer Bryant, mom of 4-year-old Noah, was shocked when her sister called to say a delivery showed up at her house addressed to her. She unexpectedly received 51 cases of SpongeBob popsicles — close to 1,000 of them —because Noah had gotten access to her Amazon account and spent $2,618.85, all on popsicles that kids can get from the ice cream truck.
Now, here's the deal. Most folks, especially parents, don't have over $2,500 sitting around for a rainy day, and they certainly don't have that much for frivolous purchases like enough popsicles to last several summers. And that was the case for Jennifer. As a mother of three working toward a master's degree in social work, the unexpected purchase her son made caused a struggle.
"I was just like, 'there's no possible way my baby could have done this. Fifty-one cases? Hell no," Jennifer said, according to Gothamist. She quickly filed a dispute with Amazon's customer service but discovered it was her son who ordered nearly 70 pounds of popsicles.
"I said, 'Did you order them? Did you do that?' And he said, 'Yes. Do we need to order more?'" she recalled.
After Amazon refused to allow a refund, Jennifer tried to sell off the popsicles but ultimately needed to throw most of them away. "We needed to get rid of the stuff. So you know, unfortunately, most of the ice melted, and we just had to throw it away because we really didn't have any way to store them," Jennifer said.
But Jennifer was still out the money, and Katie Schloss, a former classmate of Jennifer's, offered to help by setting up a GoFundMe to try and recoup the cost of the popsicles she had to throw away.
"As (truly!) adorable as this story is, Jennifer Bryant (@amazin_mii), Noah's mom, is a social work student at NYU (we took Policy I together) and simply cannot afford this," Katie wrote on Instagram. "Amazon will not take back the popsicles, and Ms. Bryant, mom to 3 boys, doesn't know how she's going to be able to pay this off, in addition to student loans and all of her family's other expenses."
The GoFundMe, called "Noah Bought $2,619 Worth of SpongeBob Popsicles," was set up, and people started to spread the word. The fund has been up now for a little over a week, and it's well surpassing the initial goal several times over. By May 11, it's raised $24,126 so far.
"Thank you SO much for your mind-blowing generosity and support," Jennifer shared via the GoFundMe updates. "We're so grateful to have made back the $2,618.85 in a mere 24 hours! As a parent to a child living with ASD (Autism Spectrum Disorder), all additional donations will go towards Noah's education and additional supports. We cannot thank you enough. Truly."
This article was originally published on