This Possible SpaceX Travel Card Is Blowing Our Mind
The fan-made "travel card" is having us think of all the space possibilities.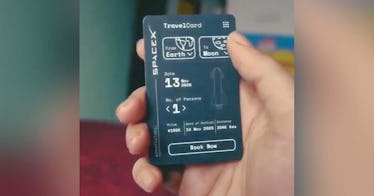 There's a reason many kids aspire to be astronauts when they're older. The whole idea of space travel just sounds amazing. While most of us don't go forward and pursue our astronaut dreams, some are living their dream life with jobs at NASA or SpaceX.
The new developments in space programs keep our dreams alive that space travel may become something — even if just for the uber-wealthy — someday, making movie fantasy seem like reality. And someone put together an animation of a mock SpaceX travel card that's building more excitement.
There was once a time where air travel seemed like a farfetched dream. While we're a long way (and a few, massive paychecks) from booking a flight to the moon as easily as we can head to Florida, it's fun to dream, and Reddit user armedialabs knows this.
Armedialabs shared an animated video of what they imagine space travel will look like in the future. Posting to r/SpaceXLounge on Reddit, the SpaceX Travel card shows what booking a SpaceX Starship ticket may look like in the future. The travel card is imagined to be as big as a credit card and easy to use with one hand.
With the touch of the screen, users authenticate their identity with a thumbprint which opens to the booking screen. From there, users can choose which planet they want to visit or which moon. Then it's as simple as choosing a date and selecting how many people will be traveling. From there, you complete the confirmation of booking, and the boarding pass pops on the card, and it's all ready for travel time.
Elon Musk basically proposed indentured servitudeInternational Space Station
This article was originally published on