ICYMI: A Hotel in Space Will Start Welcoming Guests in 2027
But fair warning: it's going to cost a lot.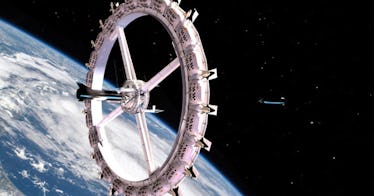 Orbital Assembly Corporation
Space tourism has taken massive steps this year, with an increasing number of companies making the idea of space travel a reality for average citizens (as long as you have tens of thousands of dollars to spend). And by 2027, you won't just be able to go to space, you can actually have a vacation there. Sacramento start-up Orbital Assembly Corporation has announced that they plan to have the first-ever luxury space hotel open for business in just over five years.
The Voyager Station will be able to accommodate 280 guests and 112 staff members and will include the standard perks you'd expect from a high-end resort, including a gym, restaurant, concert hall, and a movie theater. Plus, you know, the fact that you are floating in space instead of spending a nice weekend in Scottsdale.
"Be one of the first humans to vacation on a luxury space station," OAC's website reads. "Make history as one of the first humans in history to own real estate in orbit."
Now, of course, the big question is how much is this going to cost? And while there's not a definitive answer, there is no question that a space hotel getaway will require a whole lot of dough. According to OAC vice president Tim Alatorre, the hefty price tag won't actually be from staying in the hotel itself but the trip to the hotel. "We want to make this an easy choice," he told Discover Magazine. "If you want to go to Paris for a week or you want to go to space for a week, we want it to be a question of preference, not of money." That being said, a Paris trip isn't exactly cheap, either.
So chances are you will not be one of the first 280 guests to stay at the Voyager Station. But as time goes on, the price will hopefully become more reasonable and who knows? Maybe by the time 2057 rolls around, you'll finally be able to enjoy a five-star hotel experience in space. But you better start saving now.