How Watching Vintage 'Sonic Youth' Concerts Can Help Fight For Abortion Rights
The beloved rock band is fighting against Texas' abortion band by releasing two vintage concerts online.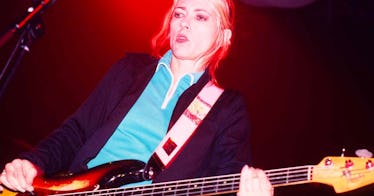 SHUTTERSTOCK
Sonic Youth announced that they will be releasing two vintage concerts online in order to raise money in support of grassroots groups that are fighting against S.B. 8 in Texas, which is widely considered the most restrictive abortion law in the United States.
The concerts will be available to stream or download on Bandcamp and will be full performances from two different eras: one concert at the Austin Music Hall during the Washing Machine tour in 1995 and the other is a 2006 concert at Gypsy Tea Room in Dallas for the Rather Ripped tour. All the proceeds will go directly to Fund Texas Choice and the Abortion Support Network, both of which provide support to people trying to get access to reproductive healthcare, specifically in Texas and Ireland.
"In times like these it feels good to be able to take some action instead of being totally frustrated by the system," Kim Gordon told Rolling Stone. "This Texas law is pure old-west-style vigilante, cowboy DIY mentality that goes against the constitution. We will only overcome this if we're an engine coming out against this regressive and inhumane law, by coming together. I hope this brings awareness and encourages other people to join the fight by donating."
You can also support the fight against S.B. 8 by purchasing any of the three shirts that Sonic Youth is releasing, as the profits will also go to Fund Texas Choice and the Abortion Support Network. Two of the shirts feature images by photographer Pat Blashill and feature pro-abortion slogans, while the third is based on one of artist Richard Prince's paintings from the Sonic Nurse-era.
S.B. 8 is currently being argued in front of the Supreme Court, with many abortion activists believing that if the law is allowed to stand, it could be the first step towards the reversal of Roe v. Wade.