Miss Grandma and Grandpa? Request A Cardboard Cutout
One Texas family found a smart solution to a vexing COVID related problem.
by Isabella Bridie DeLeo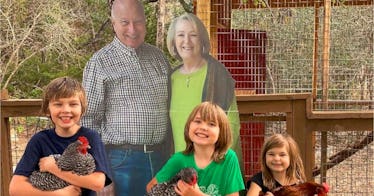 Missy Buchanan via Good Morning America
These grandparents
in Texas have found a brilliant way to be side-by-side the rest of their family during Thanksgiving, even though they can't physically be there: by sending two six-feet-tall cardboard cut-outs of themselves. It might sound strange, but it's a strange holiday season already due to COVID-19, and all things considered, it makes a lot of sense. Grandma Missy Buchanan and Grandpa Barry Buchanan may have just found a perfect solution that will allow them to at least be semi-present at the dinner table, with their cardboard look-alikes smiling on as their kids and grandkids eat turkey and pumpkin pie. Admittedly, the cutouts could have easily felt awkward, but the resemblance is so uncanny, and the idea too funny, that it totally works. Missy Buchanan explained to Good Morning America, "My daughter got hers first. She texted, 'Omg!' and called and said, 'This is the funniest thing we've ever seen.'" Missy's grandkids loved it too and ended up taking photos with the cutouts throughout the home, from the kitchen to the chicken coop. She had an uplifting message to share that a lot of us probably need to be reminded of this holiday season, "Family love is not going to change whether we're there or not." For Missy, "It's a reminder that there's still something to laugh about."It might be too late to order a cutout for Thanksgiving, but the holiday season is just beginning, so perhaps a cutout could come in handy for a Christmas or New Year's Eve dinner? With travel and in-person gatherings risky due to surging COVID-19 cases and families likely experiencing a "Zoom burnout" of sorts, a cut-out like the Buchanans' is a clever way to have family members' see your smiling face while they stuff their faces with delicious Thanksgiving treats.