February's Snow Moon (AKA the Bone Moon) Is Coming
The Snow Moon is the easiest one to catch with the longest show, and it's February's only Full Moon.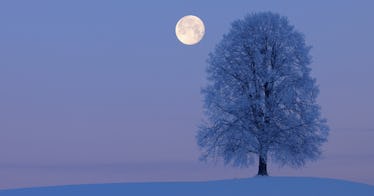 Martin Ruegner / Getty Images
With the month of February being the shortest of the year, we don't get a lot of fun sky happenings. There aren't a lot of eclipses or full moons. But there is one that will happen this month and it's called a Snow Moon. It's a spectacular event, and if you and the kids like all things astronomical, here's what you need to know about February's Snow Moon.
What is a Snow Moon?
According to Inverse, a Snow Moon, also called the Storm Moon, Hunger Moon, or Bone Moon, come from the "difficult weather and food scarcity that Native Americans historically faced during this month."
The Old Farmer's Almanac says the Snow Moon is also to mark the month where the US gets the most snow. On average, it's the country's "snowiest month," according to the National Weather Service
When does the Snow Moon happen?
This year, February's Full Snow Moon will reach its peak on Wednesday, February 16 at 11:57 in the morning. However, it will still be viewable at night, rising at 6 in the evening and reaching peak at midnight.
If you miss it during those times, it can also be seen full for about a day after it reaches peak – so there are plenty of chances to take a look!
How to see the Snow Moon
Moons are easy to see — you just look up on the night it rises. But, if you want to make sure you and the kids can see February's Full Moon in its full glory, the Almanac has a tool on its website where you can get the exact best time to see it based on where you are. Punch in your zip code and any date (in this case, February 16th would be relevant) and the tool will then calculate the exact Moonrise and Moonset for your location.
The February Snow Moon might be the easiest Full Moon to catch since this month has longer nights. There's extra time to watch the show since it will stay up in the sky all night.
When will the next Full Moon take place?
The next Full Moon will show on March 18, very early in the morning. This Full Moon is called the Worm Moon – marking the days before spring where the ground begins to thaw and the earthworms come out of the soil.