The Most Sought-After Crib Is On A Huge Sale (While Supplies Last)
Get your kid (and yourself) the gift of a good night's sleep.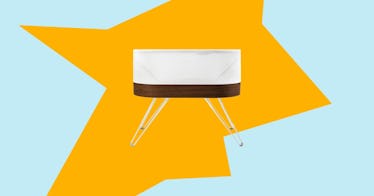 Parents know that when it comes to cribs, you simply cannot beat the Snoo. The smart crib was created by Dr. Harvey Karp to implement his "Five S's" for comforting a baby: swaddling, side holding, shh-ing, swinging, and sucking.
But while the Snoo Smart Sleeper is widely considered the Mercedes-Benz of baby sleep, its $1,595 price tag makes owning it feel like as much of a fantasy as your newborn actually sleeping through the night.
However, if you're looking to upgrade your baby's crib, now might be the best time, as Happiest Baby is offering a Black Friday deal that will save you hundreds of dollars on a Snoo.
From November 25-28, you can get 20 percent off the Snoo, meaning you will only pay $1,276 (a total savings of $319) with free shipping. You also get a 30-day free trial, so if it turns out to not be worth it for your kid, you can return it without having to foot the bill. If you are looking to get one, you may want to act fast, as supplies could run out because the Snoo remains a highly sought-after crib.
If paying that much upfront doesn't work for you, you can also rent a Snoo for $149 per month and there is even a deal where if you rent it for six months, the final two months are discounted down to $30. The Snoo is Fatherly approved and our own review of the product showed how it really can help with a child's sleep in a way that makes the steep price tag worth it.
"Our daughter sleeps soundly," Oliver Lee Bateman wrote. "She's fixed in place and secure in the swaddle. Over time, her sleep and feeding patterns have become more regular, which is what the SNOO promises to assist with."
So if you are hoping to get your kid (and yourself) the gift of a good night's sleep this Christmas, consider getting the Snoo at a discounted price. We promise it's worth it.