ICYMI: SNL's 'Frozen 2' Deleted Scenes Are Freaking Hilarious
"Tell your kids we're sorry."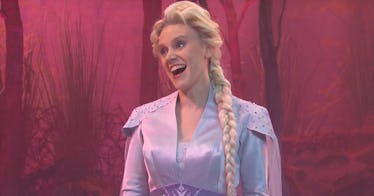 Saturday Night Live does a lot of things right, and their take on what the deleted scenes of Frozen 2 would look like is spot-on hilarious. The skit gives parents everything we didn't' realize was missing from the movie – Anna addresses the rumors of Elsa being gay, Olaf has an extra carrot, and we're gifted another ridiculous song to get stuck in our head, this time about being "big and woke."
The skit is framed as if it's a commercial for the Blu-ray release and teases some deleted scenes that likely would never be in the real movie, but they're freaking hilarious. Anna (played by Cecily Strong) turns to Elsa (played by Kate McKinnon) and tells her, "we all know," hinting at the rumors that the Snow Queen is gay. There's a song that Anna busts out with new lyrics set to the famous "Let It Go" song, but this time about how her sexuality doesn't need to be a "secret" anymore.
If you've had to sit through hours of re-watching the real movie with your kids, these deleted scenes are a breath of fresh air. They address the lack of diversity in a funny scene with a new character named Mattias, played by Kenan Thompson. Part of the Kings Guard trapped in the forest, the characters address their confusion seeing a person of color. Oh, and the "re-design" of Olaf is over-the-top, and the SNL cast does a great job at extending the awkwardness that we all feel while watching it.
The skit ends off with a perfect line: "Tell your kids we're sorry."
The actual Frozen 2 Blu-Ray release will hit stores on February 11, 2020.
This article was originally published on