'SNL at Home' Was Fantastic. Here are the 5 Best Sketches
'Saturday Night Live' proved that we can still laugh in the middle of a pandemic.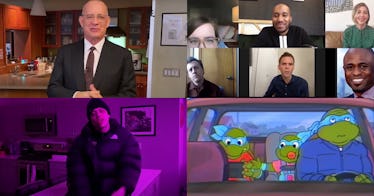 Over the weekend, after a three-week hiatus, Saturday Night Live made a triumphant return with SNL At Home; a remote version of the show, in which the entire cast created a show that simulated the normal live broadcast, but was in fact, crafted without any kind of face-to-face interaction. Ingeniously, this resulted in a lot of sketches that made fun of nonsense online, specifically Zoom calls and YouTube culture. Also, because many of the sketches were crafted to star one specific SNL cast member by themselves, the series also showed-off the individual talents of each specific comedian.
In case you missed this welcome distraction, here are the five best moments for SNL At Home.
Tom Hanks' opening monologue
Though he didn't appear in any of the sketches on the show, Tom Hanks was the default "host" of the show. It was pretty weird watching an opening monologue without the knowledge of a live audience reacting to the jokes, but Hanks easily got the best line of the whole thing. "Ever since being diagnosed [with the cornavirus] I have been more like America's dad than ever before: No one wants to be around me very long, and I make people uncomfortable."
"Zoom Call"
This sketch simulated what it's like for every single person who is dealing with doing Zoom calls from home, complete with colleagues who have no fucking idea how Zoom works. I literally can't get enough of this sketch.
"Drake Song"
Bringing back some BDE and some Andy Samberg swagger, Pete Davison dropped two fake raps that were apparently filmed by his mom. "Drake Song" is probably the catcher of the two, but don't sleep on "2000 Dollars."
"Middle-Aged Mutant Ninja Turtles"
In a sketch clearly made for dads who grew up in the '90s, this sketch checks back in with what the Ninja Turtles are doing in middle-age. (Spoiler alert: Their best days are behind them.)
Hal Willner Tribute
Though not actually a sketch (at all) the tribute that the cast of SNL paid to composer Hal Willner was touching, beautiful and truly one-of-kind. Willner has composed on-the-fly music for SNL since the 1980s, in a career that spanned four decades. Several old-school SNL alums, including Molly Shannon, Ana Gasteyer, Maya Rudolph, Amy Poehler, and Tina Fey sang a cover of Lou Reed's "Perfect Day" to honor Willner's passing. Most publications say Willner died of complications related to COVID-19, though his diagnosis was unclear at the time of his passing.
You can watch more SNL sketches here. The show will be back next week for another SNL At Home edition.