'Saturday Night Live' Is Back This Weekend with 'SNL At Home'
Here's everything we know about tomorrow night's new episode.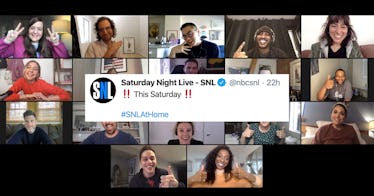 Season 45 of Saturday Night Live will resume with a new episode tomorrow night at 11:30 during the show's typical time slot.
A brief media alert from NBC said that "material will be produced remotely" as the show "practices social distancing," something that would be pretty much impossible in 30 Rock's famously cramped studio 8H.
The SNL Twitter account celebrated the news with a screenshot of a cast member Zoom call with about half flashing thumbs up along with #SNLAtHome.
There hasn't been a new Saturday Night Live since Daniel Craig hosted the show on March 7. It would prove to be the last one for more than a month.
During the scheduled break following Craig's episode, the COVID-19 crisis worsened and quarantine measures began to be enforced in New York City. An episode scheduled to air on March 28 with host John Krasinski and musical guest Dua Lipa was subsequently canceled, and production was postponed as the producers scrambled to decide if and how to produce a show safely.
They've apparently figured it out, but we don't know much about their plans. The only thing we know about what will actually be on the air is that there will be a "Weekend Update" segment along with other original content from the show's cast members.
And while it's airing on Saturday night, we're not sure how live this particular episode will be given the constraints of producing the show while social distancing.
Saturday Night Live returns to NBC at 11:30 p.m. ET on April 11.
This article was originally published on