Smash Mouth Deepfake 'All Star' Music Video Is So Bad It's Good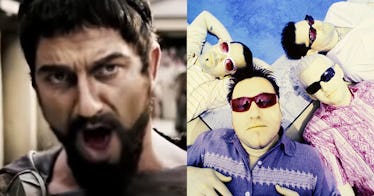 jonty_pressinger @ Youtube / Getty
Have you ever been consumed by the overwhelming need to see a deepfake of the titular Smash Mouth hit, 'All Star' in which movie characters from dozens of different movies from Mean Girls to American Psycho to 300? Well, if you somehow have, then you're deeply in luck. Quarantine and COVID-19 seems to have gotten the best of us — and our functionally unlimited full time — and especially to YouTuber ontyj (otherwise known as Jonty Pressinger), who was messing around on Wav2Lip, a neural network, and ended up creating a minute-plus long music video to the track featuring some of the most beloved film characters in the American canon.
Smash Mouth has recently possibly been linked to 260,000 new COVID-19 cases in the United States — accounting for 19 percent of newly reported COVID cases in the country — after performing at the Sturgis Motorcycle Rally in South Dakota in August. That performance and the rally itself brought nearly half a million people to the state who didn't wear masks or social distance, and now, weeks after the rally, 260,000 of the newest cases may be linked to the rally itself. Perhaps the deep fake video, which harmed no one at all, can bring them some good press at a time when the famous band might desperately need it.
Plus, seeing Tom Hanks and Rachel McAdams mouth the lines to the famous song is not all that bad. Might even be kind of fun. If I remember what fun feels like.
This article was originally published on