Parents: Tell Your Kids a Silver Medal Is Amazing
Let's talk about Simone Biles and the triumph of the US Olympics gymnastics team.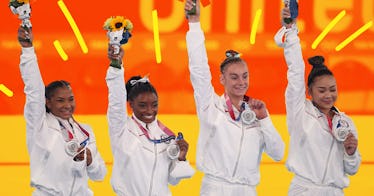 GETTY
The Olympics world is abuzz with the fact that Simone Biles, gymnast GOAT, made the decision on Tuesday to withdraw from the team final competition and has withdrawn from Thursday's individual all-around competition, citing the need to care for her mental health as the reason for her choice not to participate.
Speaking to press, Biles said that in the vault that led her to withdraw from the team all-around, she had "the twisties," a term for when gymnasts lose their mind-body awareness, and subsequently control of their body in the air while doing complicated twists, jumps, and moves that could very quickly lead to major injury if not executed correctly. In this way, her mental struggles were leading to her physical struggles, and in a sport as dangerous as gymnastics, her ability to value herself and her own health above anything else should be commended.
So too should the fact that the team, without her, still got silver, making them one of the two best teams in the world at the sport. Without Biles, the United States gymnastics team, which was considered a heavy favorite, ended up winning silver, while the Russian Olympic Committee managed to win gold.
Out of all of the athletes in the entire world, this group managed to be one of the two best squads on earth. That's a remarkable accomplishment that should be celebrated, not derided. This group showed resiliency and camaraderie that is every bit as impressive as their talent as gymnasts.
The 24-year-old came to Tokyo as the overwhelming favorite to win the individual all-around competition, as well as the face of the United States during the Olympics. The pressure to succeed began to weigh heavily on Biles, who spoke on Monday about feeling like she had "the weight of the world" on her shoulders.
While appearing on the Today show after withdrawing, Biles told Hoda Kotb that she felt good physically but said that her emotional wellbeing and mental health "kind of varies on the time and moment." She referenced the difficulty of "being the head star of the Olympics," saying that it was not easy having that kind of pressure weighing on her.
"We also have to focus on ourselves, because at the end of the day we're human, too," Biles said, according to The Associated Press. "We have to protect our mind and our body, rather than just go out there and do what the world wants us to do." Biles is right. Her own mind and body are the most important things, and protecting them when she must, while also refusing to bring her team down, is a powerful choice.
After Biles' decision, critics did what they always do and began to maliciously criticize her character, saying that she was being cowardly by removing herself. Piers Morgan, who once literally ran away after being called out on TV for his public bullying of Meghan Markle, said that Biles let her country and her teammates down and countless other trolls have similarly attacked Biles since her decision. Charlie Kirk called Biles a "sociopath."
Right-wing media has launched an attack on an athlete who endured sexual abuse at the hands of Larry Nassar, competed with kidney stones and broken toes, and pushed through a lifetime of pain and training to be where she is right now — something they all could never do. This is the same athlete that said she'd never let her kids join USA Gymnastics. She is a warrior.
Meanwhile, parents know better. Choosing to belittle Biles for caring for her mental health is obviously equal parts cruel and idiotic and, thankfully, many people have offered their public support of her decision, including several professional athletes.
And parents should also make it clear to their kids: it's just as ridiculous to say that the United States gymnastics team should be disappointed that had to "settle" for silver.
Silver is a triumph. Medaling is a triumph. Silver is hard work, years of fighting, dedication to a sport, and official recognition for that prowess. Just because the American team is so dominant and was expected to win something doesn't mean that's how it always works out. Teaching children that success and failure are not just about where you rank but also about perspective is a great lesson.
As for Biles, she is expected to be evaluated before she decides if she will participate in next week's individual events. She qualified for the finals on all four apparatuses, but it sounds like she is currently taking it day-by-day. No matter what she does, her mark on the sport is indelible. And Team USA whooped butt out there.