Simone Biles' Final Olympic Performance Was the Comeback of a Century
"I did it for me, and I was happy to be able to compete one more time."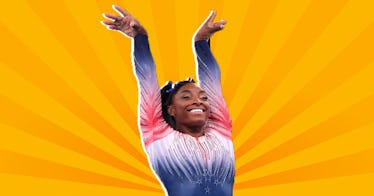 GETTY
The Tokyo 2021 Olympics are well underway, and so much of the attention is on one of the greatest ever Olympic gymnasts of all time, Simone Biles. At 24-years-old, Biles is an old-hat at the game of gymnastics, and even so, she was slated as the competitor to watch in every event at the Olympics and was widely expected to medal in basically every event. Unfortunately for viewers, but fortunately for Biles, she dropped out halfway through the team-all-around, the individual all-around, and individual events at the Olympics after she began to struggle to perform due to mental health issues.
But in any case, on Tuesday, August 3rd, she performed in one final event — and potentially her last Olympics ever — on the balance beam. And her performance was the comeback of the century.
When Biles dropped out of several Olympic events, the move prompted a huge debate on the importance of mental health and how that can be a serious danger to physical health. Especially when competing at the level, and in the sport, that Simone does. She said she was experiencing "the twisties," making it dangerous for her to compete. Former gymnasts across the world showed their support, with one Olympic athlete describing gymnastics as "diving into a pool with no water."
While the name might sound cutesy, it's anything but in real life. The term is used to describe when gymnasts lose control of where their body is in space. This means the athlete isn't able to tell up from down and risks landing on their neck, head and the potential of suffering a catastrophic injury. Simone said her mind was clouded, and it was dangerous to compete.
But it's also especially true that in her career as an elite athlete, Simone has been through a tremendous amount, and has experienced a bonkers level of suffering at the hands of USA Gymnastics. Officials have betrayed her, denying that they had any legal duty to protect her from her abuser Larry Nassar, who also sexually abused hundreds of other athletes.
Many trauma experts have noted that the Olympics arena might have been deeply triggering for Biles. Speculation aside, she was still simply dealing with the pressure of performing at the Olympic level while being considered a GOAT. It's a lot to handle.
And then Simone came back to compete in the balance beam competition and reminded everyone why she's a force. Simone delivered a strong routine, landing a double pike dismount, a trick she hasn't done in almost nine years. (If you missed it, NBC will re-air her routine at 8 p.m. ET on Tuesday, August 3rd.)
The performance was powerful, she proved why she's the GOAT, and she finished the qualifying round with the 7th highest score, doing so well on the final round that she came in third. The elite gymnast brought a bronze medal home.
"I was just happy to be able to perform regardless of the outcome," Simone said. "I did it for me, and I was happy to be able to compete one more time … Training for five years and coming here and kind of being triggered and not being able to do anything wasn't fun."
The joy was clear on Simone's face after her routine. She patted her heart with the biggest smile, and her team and the crowd cheered her on.