Parents Accuse 'Show Dogs' Movie of 'Grooming' Kids for Sexual Abuse
Upon its release, the PG-rated 'family' film faced immediate backlash from parents and critics.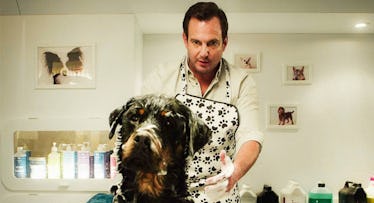 Show Dogs
Show Dogs, a fun kid's movie filled with talking canines, is "grooming" kids to be comfortable with sexual assault. That's the argument some parents are making about the recently released PG-rated "family" film. In fact, the controversy has become so widespread that Global Road Entertainment, Show Dog's production company, announced on Wednesday that it would recut the movie to remove two scenes that feature Max, the film's canine protagonist, overcoming his fear of having his genitals touched.
In Show Dogs, Max, a New York police dog voiced by Ludacris, teams up with an FBI agent named Frank to stop an animal smuggling operation that is operating behind the scenes at a dog show in Las Vegas. To shut it down, Max has to enter the show. And as part of his preparation, Frank grabs Max's genitals, which causes Max to freak out.
The already bizarre and problematic plotline somehow takes an even darker turn later in the film when another dog tells Max to "go to your happy place" when the judges are fondling his genitals and notes that "inspection of the private parts is the hardest part of being a show dog." At the actual event, Max is able to go to his "happy place" and doesn't react negatively when the judges complete the exam, despite his obvious discomfort.
Terina Maldonado of the mom blog Macaroni Kid was one of the first to call out Show Dogs for its inappropriate scenes, writing that they were "meant to groom children to be open to having people touch their privates, even though they don't want it." Shortly after Maldonado's rebuke of the film, other critics, as well as parents who saw the movie with their kids, began speaking out against Show Dogs for casually showing Max needing to get over his fear of having his genitals touched without consent.
Nearly everyone agreed that the entire plotline was, at best, incredibly tone deaf and, at worst, complicit in encouraging kids to accept sexual abuse. Global Road Entertainment released a statement apologizing to anyone who was offended by the scene, along with promising to recut the film.
"Global Road Entertainment and the filmmakers are saddened and apologize to any parent who feels the scene sends a message other than a comedic moment in the film, with no hidden or ulterior meaning, but respect their right to react to any piece of content," the statement read.
This article was originally published on