Who Is She-Hulk? She's Your Next Marvel-Disney+ Obsession
Here's what we know about it.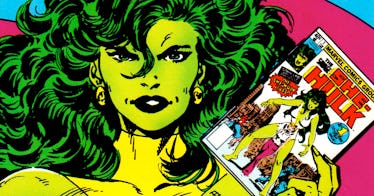 Marvel
None of the original Marvel series slated for Disney+ have made their debut on the nine month-old streaming service, so Marvel fans enduring an unusually long gap between new releases have had to subsist on glimpses of what Loki, WandaVision, and Falcon and the Winter Soldier.
Until today, not much was known about She-Hulk, another MCU-bound series for Disney+, beyond its title character. She-Hulk is the last Marvel character co-created by Stan Lee. Her real name is Jennifer Walters, an attorney who is also the cousin of Bruce Banner. Thanks to an intra-family blood transfusion, she gains his superpowers but, unlike Banner, her personality doesn't change when she Hulks out.
It now looks like Kat Coiro will be charged with making the series a reality. She is in talks to direct several episodes of the series, including the pilot, and serve as an executive producer on the series.
Coiro is a veteran TV director, with episodes of Shameless, It's Always Sunny in Philadelphia, Modern Family, and Brooklyn Nine-Nine under her belt. Her third feature film, Marry Me, a romantic comedy starring Jennifer Lopez, Owen Wilson, and Sarah Silverman, is due for a theatrical release on Valentine's Day.
In other words, she's both established and up-and-coming, and with her experience directing in different genres Coiro seems like an excellent choice to join Jessica Gao of Rick and Morty, who was previously picked to lead the writers' room.
But even if you've never heard of either Coiro or Gao, the fact that these key roles are being filled is a good sign for the series. Slowly but surely, progress is bing made, and She-Hulk should make it to Disney+ in 2022.
This article was originally published on