Shawn Johnson's Husband Experiences "Pregnancy" in Viral TikTok
The former Olympian taped a weighted ball to her husband's stomach so he could experience what her life has been like these days, and it's hilarious.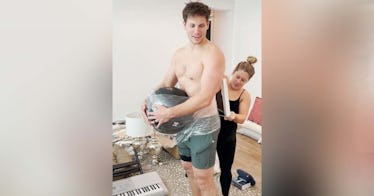 Pregnancy is a magical time for people who can get pregnant and their partners. But it's one thing to read about what happens, and a completely different thing when facing it in real life, and experiencing the aches and pains of pregnancy are another. Yes, moms get bigger, and everything gets harder, but the experience is so much more than getting big. And one ache and pain?
Just how little, sometimes, dads physically and intimately understand about the physical experiences of pregnancy. For the most part, they can only empathize, and that's totally fair! But it's also why former Olympian and GOAT-level gymnast Shawn Johnson's viral TikTok series with her husband is so, so funny.
To help her husband, Andrew East, an NFL football player, understand what it's really like to be carrying a growing baby, the two devised a simulation plan so that he could understand at least some of the physical sensations of pregnancy. And as suspected, he just can't deal. Here's what went down.
Making My Husband Feel What It's Like to be Pregnant is the name of their series—so far, it looks like two have been posted, and they're so accurate.
The first, shared on TikTok on May 14, opens with Shawn plastic wrapping a 14-pound weight ball to Andrew's midsection to simulate the baby and where the bulk of the weight is carried. Almost from the exact moment that Shawn starts strapping the weighted ball on his stomach, Andrew starts complaining. She explains that the average weight gain is 30 pounds in pregnancy, which is "only 14."
"This is half of the actual weight?" he says, "that's terrifying." She then asks him to pick up a toy off the floor with his new 14-pound bump and giggled as he troubleshoots how to get that done.
In the second video in the series, Andrew is asked to lay down in bed after doing the pregnant waddle to the bedroom, still with the pretend pregnant belly strapped to him. He complains as he attempts to get onto the bed, then when Andrew lies down and tries to get back up. It's adorable because it's very similar to being pregnant, where you feel like a turtle on your shell. At the same time, you try to figure out how to set yourself back up.
The series, which we hope more will be released, is adorable and funny. But it's also nice to see Andrew so interested in a small bit of what the experience is like. Cause it's not easy, even if Shawn makes it look like it is.
This article was originally published on