Sesame Street Just Made 110 Ebooks 100 Percent Free
You can get them from all the major eBook marketplaces.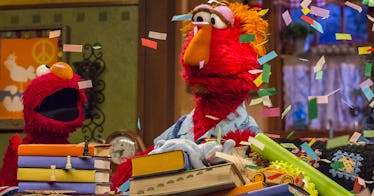 Sesame Street Twitter
Keeping cooped-up kids occupied as the coronavirus keeps their schools close is easier said than done. Entertaining them and helping them learn something along the way? That's practically Herculean, but it is possible if you have the right tools.
The Sesame Workshop is doing its best to equip parents suddenly faced with these challenges. For instance, it just made a trove of eBooks available for free. That translates to hours and hours of time reading and learning for kids, hours and hours of time parents won't have to worry about keeping them occupied.
The 110 (!) total titles can be downloaded from all the major eBook platforms (Amazon Kindle, Apple Books, Google Play, Barnes & Noble Nook, Kobo). There's not even an expiration date at the moment.
Just as impressive as the sheer amount of content parents gained access to in one fell swoop is their variety. Everything from letters and numbers to animals to music to reading is covered by books centered around Elmo, Cookie Monster, Grover, and other members of the Sesame Street Gang. The books are pegged to different age levels and
The eBook release was mentioned almost in passing on a press release from the Sesame Workshop touting its new platform, designed for parents suddenly faced with the challenges of supervising and educating their kids on the weekdays.
"Caring for Each Other" is a portal full of activities to keep kids busy and learning that will receive regular updates while folks are stuck at home. Along with the eBooks, it's sure to be a lifesaver to parents struggling to keep their kids entertained and free up the time and bandwidth to get work done themselves.
This article was originally published on