Serena Williams Might Be Forced to Skip The Tokyo Olympics For Her Daughter
"I haven't spent 24 hours without her."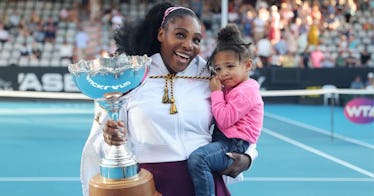 GETTY
Serena Williams said that she may not participate in the upcoming Olympics in Tokyo if she is not allowed to bring her three-year-old daughter Alexis Olympia Ohanian Jr., who she shares with her husband, Olympia's father Alexis Ohanian.
"I haven't really thought much about that. That's a really good question," Williams told reporters ahead of competing in the Italian Open. "I haven't spent 24 hours without her, so that kind of answers the question itself. We're best friends."
Williams is a four-time Olympic gold medalist, having won the doubles title three times with her sister Venus, along with the singles title in 2012. But she sounds like she may opt-out of competing for additional medals if it means having to be separated from her daughter.
After being delayed a year due to the COVID pandemic, the Tokyo Olympics are currently scheduled to begin on July 23. Despite only being a couple of months away, it is not yet clear if athletes who are also parents will be able to bring their kids along.
Fans from foreign countries have been barred from attending this year's Olympics to reduce the risk of spreading the coronavirus, but it sounds like athletes have not yet been told if those restrictions could include family members.
This lack of clarity puts parents like Williams in a difficult position, as they essentially are forced to choose between their career and their kids instead of being given the chance to balance the two.
Time is also a factor for Williams, as the 39-year-old is unlikely to play in the 2024 Olympics, meaning that this is probably her last opportunity to try and win any additional medals. Perhaps parents will be able to bring their kids along but if not, fans could be robbed of the chance to see the greatest tennis player of all time compete at the Olympics for the final time in her career.
This article was originally published on