Serena Williams Is Officially Skipping the Olympics
Previously, Serena had expressed doubt that she'd go to Tokyo if she couldn't bring her 3-year-old daughter, Olympia.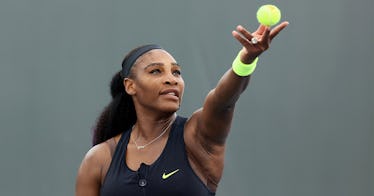 GETTY
Serena Williams officially confirmed that she will not be traveling to Tokyo for the upcoming Olympics.
"I'm actually not on the Olympic list," Williams said, at a news conference. "If so, then I should not be on it."
Williams declined to explain why she won't be participating in the Olympics but said that she decided not to attend for a plethora of reasons.
"There's a lot of reasons that I made my Olympic decision," she said. "I don't feel like going into them today. Maybe another day. Sorry."
Williams is a four-time Olympic gold medalist, having won the doubles title three times with her sister Venus, along with the singles title in 2012. But back in May, Williams said that she would most likely opt out of the upcoming Olympics if it means having to be separated from her daughter.
Travel restrictions due to the ongoing pandemic may have kept her from being allowed to bring Olympia and the 39-year-old said that she had not "spent 24 hours without her" daughter since her birth.
"I would not be able to go function without my 3-year-old around," Williams explained. "I think I would be in a depression. We've been together every day of her life."
Mary Joe Fernandez, the former captain of the U.S. women's Olympic tennis team, said that it was likely "not an easy decision" for Williams to not go to Tokyo but she believes that the living legend is focusing on winning her 24th Grand Slam singles title, which would officially tie her with Margaret Court for the most of all-time.
"Her focus right now is on trying to win the majors," Fernandez said. "It's a tough summer if you go from here to Tokyo to the U.S. Open. Maybe she's trying to pace herself."
Audiences will surely miss Serena's presence on the Olympic court, but Serena's choice to set boundaries with her time, and make choices about where and when she wants to perform at the highest level of sports, are a great example for all athletes, no matter whether or not they are a parent.