Senate Debates Massive $10,000 Covid Stimulus Check For Families
Here's what the bill could do.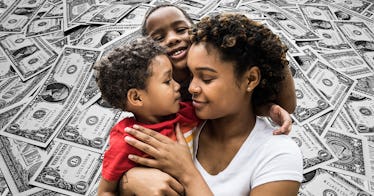 While the pandemic continues to rage on and some 13.3 percent of Americans remain out of work, there have been various proposals from lawmakers on how to cushion the economic blow to America's most vulnerable workers. The Monthly Economic Crisis Support Act, introduced last month by Senators Kamala Harris, Bernie Sanders, and Ed Markey, is a bill that's in that spirit — and could give an extremely generous $10,000 a month to American families of basic income who are suffering economically as a result of the pandemic.
The bill calls for sending $2,000 per month to individuals, and $4,000 for cohabiting couples. The bill also stipulates up to $2,000 per child, up to three children, per family. That could mean that some American families could qualify for p to $10,000 a month — although many more would likely qualify for less. The bill stipulates that any worker or family making under $120,000 would be eligible for the monthly financial support, but the payments would slowly phase out for those making over $100,000.
The payments would continue for the length of the pandemic and the economic fallout from the blowback, and may be a much needed tool in order to fight the slowing economy and the 2020 recession, which some financial experts suggest that we entered at the end of March of this year. The government sent out $1,200 of one-time stimulus checks to every American citizen earlier this year as a result of the pandemic, but much of that money was understandably and unsurprisingly put into bills, rent, or savings. Money spent on non-necessities has shrunk significantly, with the retail sector of the economy plummeting with 20.5 million job losses in April and sales shrinking dramatically as well.
The monthly money, sort of a crisis-Universal Basic Income which was touted by Andrew Yang during his presidential campaign for the Democratic nomination, could stem some of the bottoming-out economy and help people purchase not just groceries or pay bills, but also buy non-necessities and save money at the same time.
Whether or not the bill will pass is another question. But it does point to a willingness of lawmakers to solve the problems of real people. Experts suggest that most of those who have lost their jobs were making less than $40,000 a year — and then there's the long-touted statistic that 40 percent of Americans can't afford an emergency expense of $400 or more. At a time of a pandemic, when many people might be saddled with unexpected unemployment or medical bills, this type of bill would make life a lot easier for American workers, and would help the economy pad itself against a deepening recession.