Sedentary Time For Kids Can Do Damage To Kids' Hearts
A new study links a lack of activity in teens with less functional hearts when they're adults.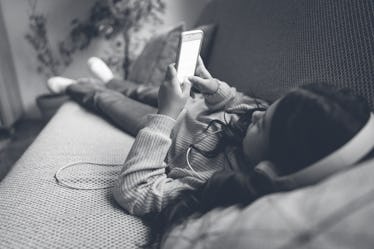 SrdjanPav/E+/Getty Images
Sedentary time may be more detrimental to kids' health than previously thought, according to a new study published in the Scandinavian Journal of Medicine and Science in Sports.
A team comprised of researchers from the University of Bristol in the UK, the University of Exeter in the UK, and the University of Eastern Finland led by Andrew Agbaje, a physician and clinical epidemiologist at the University of Eastern Finland examined data from 530 17-year-olds to determine the effect of sedentary time, light activity, and moderate to vigorous activity on cardiac physiology and function.
Participants were enrolled between 1991 and 1992 and attended periodic health visits starting at age seven and continuing throughout their lives. At age 16, participants were equipped with devices that measured their activity levels in an "activity counts per minute" format.
At age 17, participants were examined to determine fat and muscle mass, blood glucose, lipids, inflammatory markers, and smoking status. Information regarding socioeconomic status, family history of cardiovascular disease, and self-reported activity levels was also gathered. Echocardiograms were performed to analyze cardiac structure and function.
Researchers found that participants were sedentary (less than 100 activity counts per minute) for around eight hours each day and engaged in moderate to vigorous activity (greater than 2296 counts per minute) for approximately 49 minutes per day. Participants engaged in around seven hours of light physical activity each day (100–2296 counts per minute).
The team found that kids who engaged in more sedentary time had larger left cardiac ventricles than those who engaged in either light activity or moderate to vigorous activity. Increased sedentary time was associated with a threefold increase in left ventricle size and a decrease in the ventricle's ability to pump blood efficiently. Interestingly enough, increases in size and decreases in function were also seen in those who engaged in more moderate to vigorous physical activity, but not to the same extent as those who were more sedentary.
Those who engaged in more light physical activity showed no marked changes in either structure or function of the left ventricle.
The results are important because left ventricular changes in adults have been associated with an increased risk of cardiovascular disease and death from cardiac events — and suggests that movement can reduce the risk of these harms.
"This novel evidence extends our knowledge of the adverse effects of sedentary time on cardiac health. It is known among adults that a 5 g/m2 increase in cardiac mass may increase the risk of cardiovascular disease and death by 7 – 20%. Engaging in moderate-to-vigorous physical activity also slightly enlarged the heart but it seems an acceptable negative side effect considering several other health benefits of moderate-to-vigorous exercise. Hence, public health experts, health policymakers, high school administrators and teachers, pediatricians, and caregivers are encouraged to facilitate adolescent participation in physical activity to enable a healthy heart," Dr. Agbaje said in a statement about the findings.
More research is needed to determine if these results are repeatable among various populations. All participants were from the same area — Avon, in southwestern England — and were predominately white. There is also the possibility that participants modified their activity levels during the monitoring period, which was only seven days, because they knew they were being monitored.