H-O-O-R-A-Y: The National Spelling Bee Is Coming Back
Last year's event was canceled due to COVID.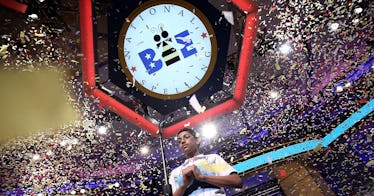 Getty
Last year, the Scripps National Spelling Bee was canceled due to the COVID-19 pandemic. It was a complete loss for all fans of marathon-style children's competitions of intellectual skill. Luckily, we have great news: we won't have to miss the event for two years in a row. It was announced today that the beloved spelling competition will be returning this summer, though it will look a little different than years past due to the coronavirus.
In a typical year, hundreds of hopeful spellers would gather at Disney World's ESPN Wide World of Sports Complex in Orlando, Florida for their chance to be named the Spelling Bee Champ. But this year, the preliminary, quarterfinal, and semifinal rounds will be held virtually to ensure the safety of everyone involved. Only the Finals will still be held in Orlando, with the top 10-12 spellers gathering to see who will reign victorious. And frankly, we're just relieved we get to see the competition at all.
"The decision to limit the in-person portion of the competition to no more than 12 spellers was made in consideration of the health and safety of participants, their families and everyone involved in the event's production as the country continues to combat the COVID-19 pandemic," according to a Monday press release. "The in-person portion of the competition … will follow protocols based on guidance from health authorities, including the Centers for Disease Control and Prevention, for social distancing and masking."
The competition is nearly a century old, first starting back in 1925. When the event was canceled last year, it was the first year there had not been a Scripps National Spelling Bee since 1945 when it was called off due to World War II. In 2019, the Spelling Bee ended in an unprecedented eight-way tie after three hours of nobody being eliminated. Some critics pointed to this finish as proof that the word-selection was not hard enough. For casual viewers, it was a shocking end to one of the best, most nail-biting competitions of the year. Either way, we will finally have some spelling bee to fill our empty hearts.
The Scripps National Spelling Bee will take place on Thursday, July 8, 2021. The event will be broadcasted on ESPN2.
This article was originally published on