Screen Time Is Bad For Kids — But Getting Them Outside Helps, Study Finds
A new study finds you don't need to go scorched Earth on your kid's Bluey time to mitigate the harmful effects of screen time.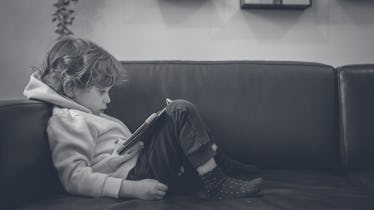 MajaMitrovic/E+/Getty Images
A new study from researchers in Japan confirms that screen time for young children has negative developmental effects, but it also finds that the adverse impacts are somewhat balanced out by a surefire remedy: spending time outside.
The research team, which published its findings in the Journal of the American Medical Association, followed 885 young children — ages 18 months to 4 years — and recorded their amount of screen time at age 2, the amount of time spent playing outdoors at age 2 years 8 months, and developmental outcomes at age 4, specifically "communication, daily living skills, and socialization scores according to a standardized assessment tool called Vineland Adaptive Behavior Scale-II."
Unsurprisingly, the amount of screen time at age 2 was inversely related to developmental outcomes at age 4. But the amount of time spent outside offset the negative relation in at least one category: daily living skills.
Four-year-old children who spent time outdoors were 20% more likely to have developmentally appropriate daily living skills than children who did not. The research team also found that socialization was more age-appropriate in 4-year-olds who spent time outdoors at age 2 years 8 months.
"Although both communication and daily living skills were worse in [4]-year-old children who had had more screen time at aged [2], outdoor play time had very different effects on these two neurodevelopmental outcomes," lead study author and professor at Osaka University Kenji J. Tsuchiya explained in a statement. "We were surprised to find that outdoor play didn't really alter the negative effects of screen time on communication—but it did have an effect on daily living skills."
This research adds to mounting evidence that spending time in nature is beneficial to kids as they age. A 2021 study published in the journal People and Nature found that kids who spent more time outside were less likely to report experiencing sadness or anxiety, as well as fewer incidences of "acting out."
Further research is needed to determine best practices for offsetting the negative impacts of screen time in an increasingly digital landscape. In light of time spent at home and on screens during the lockdowns and many sick days that have happened over the past few years, the research team feels this avenue of study is especially timely.
The study authors did report a few limitations in their data, however. Screen usage was parent-reported, so it could have been underestimated or otherwise misreported, and no data was collected regarding the type of programming the children were experiencing during their screen time. Some concerns were also raised about children who were born in the 2010s compared to those born in the 2020s, as device usage for toddlers and preschoolers has changed during that time frame.
"Taken together, our findings indicate that optimizing screen time in young children is really important for appropriate neurodevelopment," study co-author Tomoko Nishimura said. "We also found that screen time is not related to social outcomes, and that even if screen time is relatively high, encouraging more outdoor play time might help to keep kids healthy and developing appropriately."