A School Bought Pizza For 400 Students Because No One Showed Up to Make Lunch
Labor shortages have hit schools hard — and one principal had to get creative.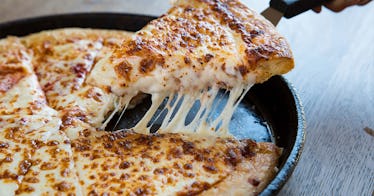 GETTY
K-12 schools in the United States may be back in person, but there are still many things that are different this year due to the ongoing pandemic. So much has changed in terms of our kids' learning environments. And a major problem in the United States right now, a massive labor shortage, has affected all industries. Schools are not immune — there's a school bus driver shortage, a teacher shortage, a school nurse shortage, and apparently, even food services in some elementary schools.
Recently a principal in Philadelphia had to step in last minute to feed hundreds of students at their school due to labor shortages. According to Business Insider, a principal at S. Weir Mitchell Elementary School was met with a staffing shortage that left 400 students without breakfast or lunch. A letter that was sent to guardians and parents on Sept. 23 said that food-services staff from the District of Philadelphia "did not report to Mitchell to serve food during breakfast or lunch" that day.
Hundreds of kids would have been left without a breakfast or lunch meal. Business Insider reports 400 kids rely on the free breakfast and lunch services at Mitchell Elementary where most students are considered "economically disadvantaged."
So, Stephanie Andrewlevich, principal at the school, stepped up and purchased 400 pizzas so the students could eat. "As soon as the stores opened, I ordered pizza for 400 students to attempt lunch service," she said.
A spokesperson for the school district has a slightly different take on what happened but confirmed the food services staff didn't show up. "The Food Services staff member assigned to Mitchell Elementary that day was unable to report to work and there was no one available to manage the distribution of these meals," the spokesperson said. "Because of this, the principal chose to have external food delivered to cover lunch for students at the school."
While this was definitely a moment that the school admin jumped in to ensure the kids had some sort of nutrition during the school day, it highlights a huge problem: labor shortages and supply chains are hitting hard, including food services in schools.
"Like many school districts across the country, the School District of Philadelphia has been impacted by these challenges," a spokesperson for the school district said.
Labor shortages have been a big problem across the country as people are leaving their low-paying roles, finding ones that have better benefits, hours, and wages. There's also the fact that many millions of people entered early retirement because of COVID-19 and hundreds of thousands of Americans are dead because of COVID-19.
"As a result, schools across the US have been struggling to find enough staff, including bus drivers and teachers," Business Insider says. "Some teachers are leaving the profession because of burnout and fears of catching the coronavirus."